Cathay Pacific chairman Patrick Healy has expressed his "utmost confidence" that the embattled airline — and its home city of Hong Kong — are able to survive the pandemic crisis.
In the airline group's full-year results, Healy says the airline is "resolutely committed" to its role as the de-facto flag carrier of Hong Kong, as well as "to protecting and enhancing the city's aviation hub status despite the challenging circumstances presented by Covid-19".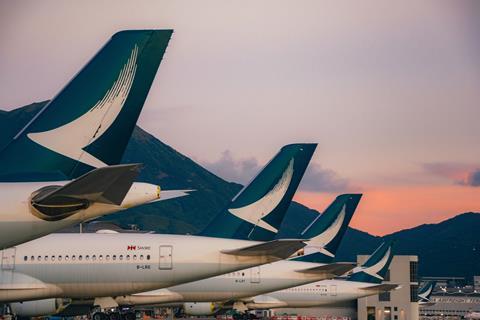 "Though we are still facing many challenges, we have the utmost confidence in the long-term future of Cathay Pacific. We have been privileged to fly out of Hong Kong as its home airline for the past 75 years and, as those years have shown, Cathay Pacific is an enduring airline," he adds.
Healy's comments come amid speculation about the future of the carrier, with reports suggesting the carrier could be the subject of an acquisition by Mainland Chinese carriers.
Hong Kong's government has also censured Cathay in recent years. In 2019 it fell afoul of the city's Beijing-backed government when some employees supported Hong Kong's democracy movement. In early 2022 the city blamed a surge in infections on Cathay crew not obeying quarantine rules.
Healy's remarks also come as the airline continues to be loss-making, faced with the double whammy of Hong Kong's strict, zero-infection stance, as well as a lack of a domestic travel market.
For the year ended 31 December 2021, the Hong Kong carrier was HK$1.4 billion ($184 million) in the red, compared to the HK$18.1 billion operating loss in 2020.
The carrier will operate a skeletal capacity for the foreseeable future, with passenger capacity at just 2% pre-pandemic levels, and cargo — its financial lifesaver in 2021 — at a third of pre-pandemic capacity.
Reiterating the carrier's commitment to its home city, Healy adds: "We have absolute confidence in the long-term future of Hong Kong. Everything we do at Cathay Pacific is in the service of Hong Kong. Cathay Pacific has been proudly serving our home city as its de facto flag carrier through thick and thin for over 75 years."