Cathay Pacific chief executive Augustus Tang will be leaving the airline after more than three years at its helm, with current commercial chief Ronald Lam appointed to lead the carrier.
The move, announced in a 9 November statement, is part of wider senior leadership reshuffle at the airline group, that will also see a new CEO appointed for low-cost unit HK Express.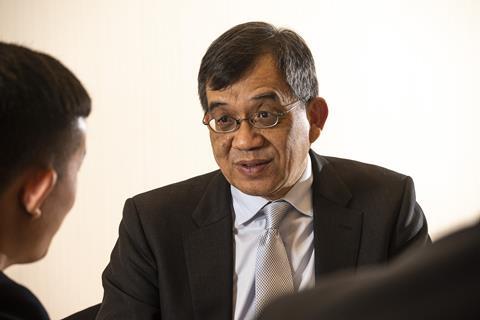 Cathay says Tang will retire from the airline on 31 December, and take on a new role at parent Swire Group, where he started his 40-year career.
Lam, currently the chief customer and commercial officer, will take helm on 1 January 2023. He will also concurrently remain as chairman of HK Express.
Tang was appointed to lead airline in 2019, amid political turmoil in the city that saw his predecessor, Rupert Hogg, abruptly step down.
Less than a year after being appointed chief, the coronavirus pandemic struck, dealing yet another blow to the carrier which has yet to fully recover to pre-pandemic traffic.
Cathay chairman Patrick Healy, in comments following Tang's retirement, says the 63-year-old played "a critical role" in the airline's massive restructuring in 2020 and its handling of the Covid-19 pandemic.
Says Healy: "His tenure has encompassed the most turbulent period in Cathay Pacific's more than 75-year history. That we are now emerging from this prolonged crisis in such great shape, with a more focused, efficient and competitive organisation, is due in very large part to the skill and wisdom of the CEO who has guided us through this period."
WIDER LEADERSHIP RESHUFFLE
With Lam's promotion to airline chief, Cathay has appointed Lavinia Lau to take over as chief customer and commercial officer from 1 January 2023. Lau is currently director of the customer travel segment at the airline.
Cathay operations and service delivery chief Greg Hughes will also be stepping down from the airline, after a 36-year career.
Taking over will be current director for service delivery Alex McGowan who assumes a second role as chairman of cargo unit Air Hong Kong.
HK Express CEO Mandy Ng, meanwhile, will move from the low-cost carrier back to Cathay, where she will be service delivery director from 1 April 2023.
Replacing Ng will be Jeanette Mao, currently the general manager of inflight services at Cathay.