The Hong Kong government has again extended the drawdown period for a HK$7.8 billion ($1 billion) loan facility for home carrier Cathay Pacific.
The one-year extension – the second one in two years – will allow the carrier access to the facility through 8 June 2023.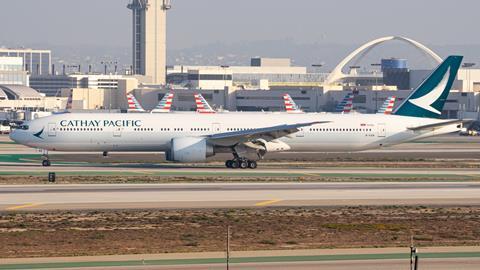 Airline chief Augustus Tang says the airline did not need to draw down the facility in the past year "despite the difficult operational environment", as the airline had "remained focused on prudent cash management".
Still, Tang welcomes the extension, noting that "it will provide us with flexibility to manage our liquidity position".
The bridging loan was part of a HK$39 billion recapitalisation package rolled out in 2020, which saw the Hong Kong government provide a vital financial lifeline to the carrier through the coronavirus pandemic in return for a 6.5% stake.
The embattled airline group has been loss-making through the past two years, as onerous travel restrictions imposed by the Hong Kong government pummelled travel demand. It was briefly cash-positive in 2021, though a subsequent tightening of pandemic curbs in Hong Kong meant it returned to burning cash monthly.
Tang notes that the airline group's liquidity "remains at a healthy level". As at end-2021, Cathay had just over HK$30 billion in cash, compared to the HK$28.6 billion at the start of the year.
"Following the recent adjustments to the Government's travel restrictions and quarantine requirements, the airline is progressively adding back capacity and we expect this will have a positive impact on the airline's business. We have been evaluating the potential benefit on our operations and cost base," says Tang.
The airline now expects to slash cash burn to just around HK$500 million a month in the near term.