Cathay Pacific is expected to return to profitability in 2022 as a result of traffic rebound and pent-up travel demand, according to a HSBC research report, which states "the only way is up" for the embattled Hong Kong carrier.
In the 7 February report, HSBC says the carrier was "well-positioned" to sustain a "prolonged downturn" driven by the pandemic and Hong Kong's tough, zero-infection stance.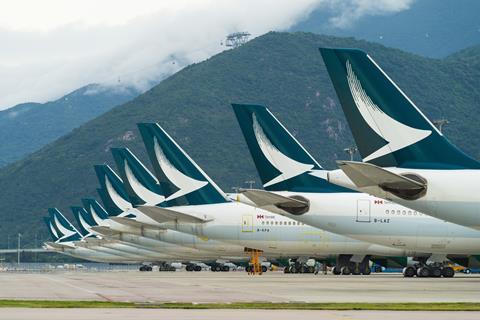 This was despite the doom and gloom surrounding the carrier in recent weeks, as Hong Kong battles a wave of infections from the Omicron variant.
The Oneworld carrier in January was operating at levels lower than during the onset of the pandemic.
Cathay operated at 2% pre-pandemic capacity for passenger flights, while cargo flights, the financial lifeline for the struggling carrier, saw capacity slashed to just 20%, from earlier estimates of 71%.
The carrier expects these cuts to result in a rise in cash burn from February, to at least HK$1 billion ($128 million) a month.
Still, the HSBC report was optimistic of the carrier's prospects: "Given its recapitalisation in 2021, [Cathay] can sustain a prolonged downturn without need for further capital, in our view."
It expects profitability by 2022, after two years of being loss-making. HSBC estimates passenger traffic to return to 15% pre-pandemic levels in 2022, followed by 60% in 2023.
As for cargo, HSBC expects traffic to rebound to 69% and 90% pre-pandemic levels in 2022 and 2023, respectively.
"While it's difficult to pinpoint the timing of the reopening of international travel, there is little doubt about the trajectory especially from next year, as restrictions would have been in place for three years in a row, fuelling a very strong pent-up demand. Therefore, we firmly believe yields on both cargo and pax compared to pre-Covid-19 levels will be significantly higher," the report states.
HSBC notes that its optimistic outlook is based off the carrier's second-half performance in 2021, which, according to Cathay's estimates, point towards a modest net profit.
"This not only reflects a strong yield performance but also [Cathay's] efforts towards rebasing its cost base," the report adds.
Cathay, which will be releasing its full-year financial results in March, is expecting a "substantial" net loss of between HK$5.6 and 6.1 billion for the year ended 31 December. In comparison, the carrier posted a record net loss of HK$21.6 billion for 2020, as it took hefty impairment and restructuring costs.