Philippine low-cost carrier Cebu Pacific (CEB) has secured a Ps16 billion ($329 million), 10-year loan today, from a syndicate of private and government banks.
Proceeds of the loan will go towards funding "capital expenditures and other general corporate purposes" and "provide a cushion against unexpected working capital requirements that may stem from fuel price and foreign exchange rate volatility", the airline says in a same-day statement.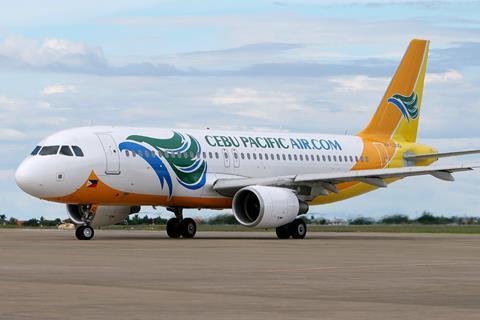 The lenders are the Development Bank of the Philippines (DBP), Land Bank of the Philippines (LBP), Asia United Bank Corporation (AUB), Bank of the Philippine Islands (BPI), Metropolitan Bank and Trust Company (MBTC) and Union Bank of the Philippines (UBP).
BPI Capital Corporation was the bookrunner for the transaction, as well as one of three mandated lead arrangers, along with DBP and LBP. AUB was a lead arranger, while MBTC and UBP served as arrangers. AUB-Trust and Investment Group was appointed the facility agent.
The move comes on the back of Cebu Pacific's Ps12.5 billion rights offering for convertible preferred shares, which began on 3 March.
Principal shareholder CPAir Holdings expressed its full support of that rights offering by undertaking to subscribe its pro-rata share and any remaining unsubscribed rights. JG Summit is the parent company of both CPAir Holdings and Cebu Pacific.
The syndicated loan together with the rights issue "will further strengthen CEB's balance sheet and liquidity position and is a prime example on how the government, private sector and sponsor can work together in contributing to a resurgent Philippines", says Cebu Pacific.
President and chief executive Lance Gokongwei calls this a "landmark syndicated loan facility" and further states that the airline "remains focused on its business transformation to reduce its unit cost so as to continue to offer affordable flights".
The airline says that prior to the pandemic, the airline concluded 2019 with a "conservative net debt-to-equity ratio of 1.26x". Despite "severe revenue decline and losses due to the Covid-19 pandemic", its net debt-to-equity ratio stood at 2.34x as of 30 September.
It adds: "The strong balance sheet and liquidity, with which the company entered 2020, has supported it in this challenging environment."