Sun Country Airlines posted a $38 million profit in the first quarter of 2023, driven partly by the increasing strength of its charter business.
The Minneapolis-based carrier said on 27 April that its first-quarter revenue rose 30% to $294 million – its most quarterly revenue ever – from $227 million during the same period one year earlier.
Sun Country's charter service revenue rose 40.5% year-on-year, and its ancillary revenue jumped 52%.
"Sun Country's unique, diversified business model continues to deliver strong results," says chief executive Jude Bricker. "The revenue environment remains resilient. We delivered these outstanding results despite a winter season at our Minneapolis-St Paul base that was the third-snowiest on record."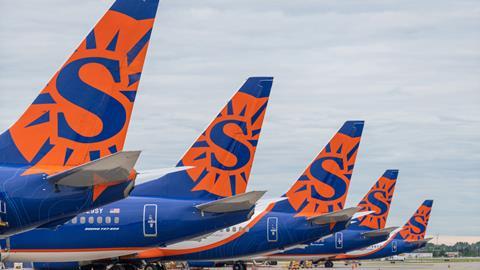 The airline reported a 3.8% year-on-year increase in block hours across its system – including scheduled and chartered flights, and cargo flights operated for Amazon. While Sun Country's scheduled-flight block hours slipped 2.2% year-on-year, its cargo and charter block hours increased 5.2% and 33%, respectively. More Amazon aircraft were available "and our contract charter business continues to expand".
"Charter block hours under long-term contracts comprised 81% of the total charter flying performed in the first quarter of 2023," Sun Country reports. "As the company begins to normalise its aircraft utilisation, it intends to pursue more ad-hoc charter flying."
"In the second quarter, we expect total block hour growth of at least 11% versus last year," adds chief financial officer Dave Davis.
In April, the airline acquired five Boeing 737-900ERs that are now leased to Oman Air. As those leases expire, Sun Country plans to incorporate the 737s into its own fleet, starting with one in late 2024 and the remaining four before the end of 2025.
"The 737-900ER is a new fleet variant for Sun Country and we expect it to create new opportunities for our network," Davis says.
At the end of the first quarter, Sun Country had 42 aircraft in its passenger fleet and operated 12 freighter aircraft.
For the second quarter, the company expects to generate $255-265 million in revenue – or 16-21% more than in the same three-month period last year. By December 2023, Sun Country hopes to operate 120 routes serving 90 airports.
The airline will hold a webcast on 28 April to give more details about its quarterly results.