South Florida start-up carrier Global Crossing Airlines (GlobalX) reports a third-quarter loss of $4.89 million as it ramped up pilot hiring to keep pace with its rapidly growing fleet.
For comparison, the cargo and charter operator lost $18.4 million during the same period of last year.
The Miami-based carrier said on 8 November that it generated $42.6 million of revenue on the quarter, up 38% over its $30.8 million total during the three months ending 30 September 2022.
Chief executive Ed Wegel says the airline has "made great progress towards the goal of sustained profitability through the growth of our fleet and scaling of our operations".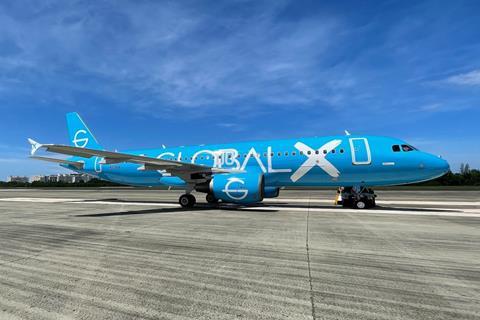 GlobalX launched revenue flights in August 2021 and has since expanded its passenger and cargo operations aggressively.
The company's fleet of leased Airbus narrowbodies includes 10 passenger jets and three cargo variants. It plans to add four more aircraft during the fourth quarter, "which will underpin double-digit growth planned for 2024", Wegel says.
GlobalX spent about $5.75 million on hiring and training new pilots during the period as it increased its head count from 60 to 125 pilots, which equates to four crews per aircraft in the carrier's fleet.
"This continued spend is critical to the future of the airline as these crews will serve as the backbone of the operation as new aircraft are delivered," the company says.
The Miami-based carrier reports flying nearly 6,500 block hours during the third quarter, a 170% increase over last year. It expects a similar performance during the fourth quarter, and still expects to reach its full-year revenue target of $150 million.