China Airlines expects its short- to medium-haul passenger network to recover first, with long-haul recovery expected to be "full of challenges" in the near-term given rising fuel prices.
Still, the SkyTeam carrier notes that when — and how — it resumes regular international flying will depend on the governmental regulations. Taiwan still restricts general travellers from entering, though it recently eased measures to allow business travellers and selected migrant workers to enter.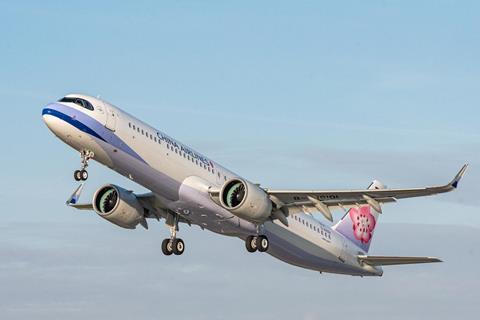 In a statement issued following the release of its full-year financial results, China Airlines says it will "strengthen" its regional routes first with its newly-delivered fleet of Airbus A321neos.
"In the future, depending on the relaxation of Taiwan border and transfer restrictions, we will gradually put [the aircraft] into operation on routes in Northeast Asia, Southeast Asia, and both sides of the Taiwan Strait," the airline says.
China Airlines took delivery of its first A321neo in 2021, and expects to take eight more jets this year.
On cargo, the airline — which reported record revenue on freight operations in 2021 — expects further "growth momentum" this year.
"We will expand the scale of transoceanic operations depending on market demand and overall capacity layout, and make good use of the newly acquired air distribution rights to strive for extended business opportunities," states China Airlines.
It will take another two Boeing 777 freighters this year, and another five more through 2024.
The carrier is pursuing a "cargo-centric" business model, amid weak passenger travel demand. In 2021, the airline mounted around 540 cargo flights a month, averaging around 120 flights weekly.
China Airlines posted a full-year operating profit of nearly NT$15 billion ($527 million), a significant jump from the NT$2.2 billion full-year profit in 2020.
Revenue in 2021 grew 20.5% to NT$139 billion, while costs and expenses only inched up 9.6% to NT$124 billion.