China's three largest carriers are expected to post their steepest net losses since the pandemic began, as they feel the impact of "multiple shocks", including the country's strict zero-infection policy, and rising fuel prices.
The 'Big Three' – comprising Air China, China Eastern Airlines and China Southern Airlines – disclosed their loss forecast for the six months to 30 June, and were less than optimistic about their financial performance.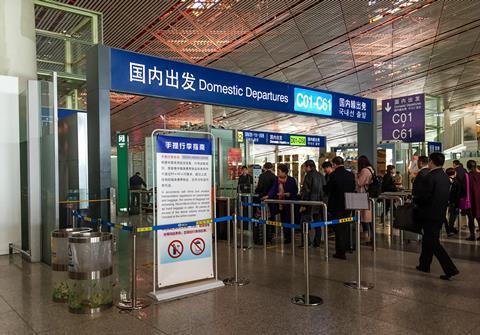 During the period, China battled its worst-ever spike in infections, caused by the more contagious Omicron variant of the coronavirus. Several large cities, including the key hubs of Beijing and Shanghai, were placed under long-drawn lockdowns, as China's zero-Covid policy came to head with the Omicron variant.
Consequently, the 'Big Three' saw domestic traffic collapse by March-April to levels not seen even in the early days of the pandemic in 2020.
Air China estimates its half-year net loss to be between CNY18.5 and 21 billion ($2.74 to $3.1 billion).
By contrast, the Beijing-based carrier posted a net loss of CNY6.8 billion in the six months to 30 June 2021. In the first half of 2020, the carrier posted a CNY9.4 billion net loss.
As for China Eastern, it estimates net losses between CNY17 and 19.5 billion. This compares to the CNY5.2 billion net loss in 2021's first-half, as well as 2020's CNY8.5 billion.
China Southern, meanwhile, expects a half-year net loss of CNY10.2-12.1 billion. In the first-half of 2021, it made a net loss of CNY4.7 billion, while in 2020, the figure was CNY8.2 billion.
The 'Big Three' offered largely similar reasons for their significant losses, including that the waves of coronavirus infections "led to a significant reduction" in travel demand and capacity.
As China Eastern, which called the challenges "arduous", puts it: "In the first half of 2022, due to the recurring impact of [Covid-19], the civil aviation industry was faced with unprecedented difficulties, and the civil aviation transportation fell to a trough." 

JUNE TRAFFIC PICKS UP
Separately, the 'Big Three' also released their traffic results for June, which indicate some upswing in domestic travel demand, though traffic was still far from hitting full recovery.
For the month, Air China carried 3.1 million domestic passengers, nearly 76% higher month on month, but was 49% lower compared to June 2021.
Domestic capacity and traffic were up 55% and 76% respectively against May traffic, but when compared year on year, they were down 40% and 47% respectively.
China Eastern, meanwhile, 3.1 million domestic passengers in June, double the numbers reported in May. Compared on a year-on-year basis, it was about 61% lower.
Domestic capacity shrank 53%, while traffic declined 59% year on year, the Shanghai-based carrier discloses.
As for China Southern, it carried about 5.9 million domestic passengers during the month, 75% higher versus May, but a 30% decline year on year.
Month-on-month, domestic capacity and traffic rose 58% and 76% respectively. When compared to 2021, they were down 17% and 27%.