China's three largest carriers expect to be loss-making for a second consecutive year, as they blamed a lack of international travel demand and a "fluctuation" in domestic recovery for their woes.
More tellingly, the 'Big Three' — comprising Air China, China Eastern Airlines and China Southern Airlines — forecast a steeper net loss in 2021 than in 2020, according to preliminary estimates disclosed on 28 January.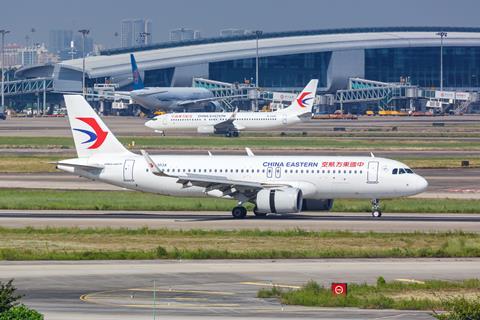 Air China says its full-year net loss is expected to be between CNY14.5 and 17 billion ($2.3 to $2.7 billion). This compares to 2020's net loss of CNY14.4 billion.
As for China Eastern, it anticipates a net loss of between CNY11 and 13.5 billion. In 2020, the Shanghai-based carrier reported a net loss of CNY11.8 billion.
China Southern expects its full-year net loss to be between CNY11.3 and 12.8 billion, higher than the CNY10.8 billion net loss it disclosed for 2020.
Main reasons disclosed by the three carriers include the prolonged impact of the coronavirus pandemic, which has weakened travel demand.
While not explicitly stated, the three carriers — all of them state-owned — alluded to tough border restrictions as one reason for poor international travel recovery.
China has maintained a strict 'Zero-Covid' strategy which has seen its international borders tightly shut in a bid to keep infections out. Of late, several cities in China have also come under lockdown when infections were discovered.
Says Air China: "The capacity input in international routes continued to be limited, and the passenger traffic for domestic routes fluctuated greatly, making it increasingly difficult for the company to improve its operating performance."
China Eastern notes that while domestic travel has rebounded slightly against 2020, closed borders — a result of "severe" coronavirus outbreaks globally — were impacting its earnings.
Guangzhou-based China Southern adds: "[Affected] by the COVID-19 pandemic, the travelling willingness of passengers was still relatively low, and the recovery of the passenger transport market is sluggish."
Air China and China Eastern also blamed rising fuel prices for their poorer financial performance.
The three carriers' dire forecast comes in stark contrast to profit estimates issued by compatriot Hainan Airlines the same day.
The Haikou-based carrier, which most recently exited restructuring, had forecast a modest full-year net profit of between CNY4.5 and 6.2 billion, reversing the record net loss it made in 2020.