A sharp jump in revenues enabled Greek carrier Aegean Airlines to narrow losses against 2021 in its low-season first quarter.
Aegean trebled revenues for the first three months of 2022, to €121 million ($129 million), compared with €44.3 million at the same stage last year. That puts it back to over two-thirds of the €172 million revenues it generated in the first quarter of 2019.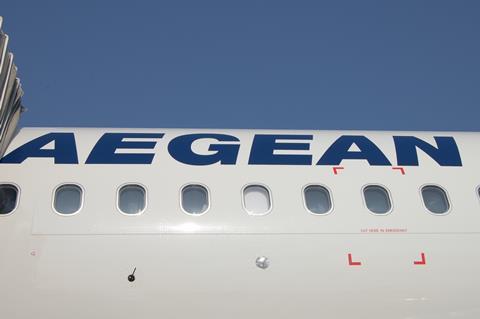 Higher revenues were driven by a more than trebling of passenger levels, to over 1.5 million, during the first quarter, despite the impact of Omicron on demand. That traffic was split almost equally between Aegean's domestic and international routes.
The airline cut net losses by 14% in the first three months of 2022, to €38.5 million, compared with the first quarter of last year, while it cut its pre-tax loss 15%, to €48.3 million. The latter was also a slight improvement on the €48.7 million loss posted in the first quarter of 2019 before the crisis hit.
Aegean chief executive Dimitris Gerogiannis says: "In the period of the year with the lowest demand, with Omicron variant impacting load factors and the price of oil doubled compared to 2019, Aegean achieved a reduction in losses compared with 2021 and 2019.
"It is also important that from February onwards cash flows are positive mainly due to the pre-sales of tickets for the summer period," he says.
Gerogiannis says the airline remains focused on its investment plan and will add a dozen new Airbus A320/A321neos this year, taking its fleet of re-engined narrowbodies to 21 by year-end. The carrier though will reduce its existing A320-family aircraft by five to 36 this year, while also reducing by two the number of turboprops operated by its regional unit Olympic Air.
"The summer season shows a particularly strong dynamic in pre-bookings, with increased load factors that are approaching pre-pandemic levels," Gerogiannis adds.
Aegean, which is targeting its first profitable year since the pandemic, expects second-quarter capacity to be within 20% of pre-crisis levels and flat against 2019 by year-end.