Colombia's aviation regulator has rejected a planned tie up between Avianca and financially strapped low-cost carrier Viva Air.
In April, owners of Avianca and Viva had struck a deal to form a joint holding company in a move to provide greater financial stability for the Latin American carriers post-pandemic, with Viva's Peruvian and Colombian operations remaining independent. Four months later, Avianca requested accelerated approval by the Colombian civil aviation regulator over concerns about Viva's ability to compete in the face of increased financial pressures.
On 8 November, authorities nixed the plan, saying it would be a "setback" for competition in the region.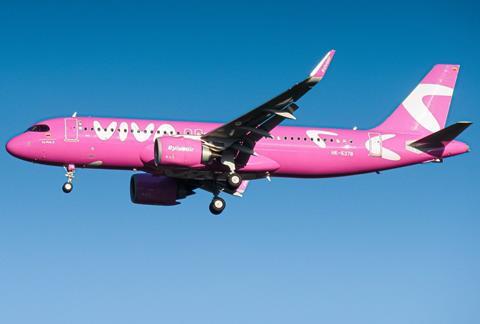 "The Colombian Aeronautical Authority has concluded that the integration represents risks for competition in the sector and the welfare of consumers," the regulator, also known as Aerocivil, says.
Together, the airlines operate "59 national routes, which mobilise 93.7% of the country's domestic traffic", the CAA adds. If approved, the airlines alone would operate 16 routes. Viva, it says, would "disappear as an independent competitor" and other carriers would be shut out of markets.
"Consumers could be harmed to the extent that the integrated entity (Avianca, Viva Air and Viva Peru) would have more facilities, incentives and fewer risks by increasing prices, reducing frequencies, cancelling routes or reducing complementary services, among others," CAA says.
"We recommend Viva to adopt the pertinent internal and alternative measures in order to overcome the financial situation it currently faces."
The parties can "reformulate and resubmit their request" if they put forth appropriate remedies to Aerocivil's concerns.
In May, Avianca and Brazil's Gol agreed to join operations under a UK-based holding company called Abra Group, while also maintaining individual brands. At the time, the companies said control of Viva's operations in Colombia and Peru were slated to move to the new holding company, contingent on regulatory approval.
It is unclear what effect Colombia's rejection of the Avianca-Viva deal will have on those plans.
Avianca last December became the first of three major Latin American airlines to complete court-overseen financial restructuring and emerge from Chapter 11 bankruptcy proceedings. The carrier had been forced into a formal restructuring process when the pandemic hit and revenue collapsed.