European regulators have backed a Portuguese €133 million ($158 million) support package to help Azores carrier SATA Air Acores through the coronavirus crisis, but is to probe an earlier capital increase.
In approving the package, the European Commission today says this aid will allow the company to fulfil its public-service obligations and ensure connectivity of the Azores outermost region.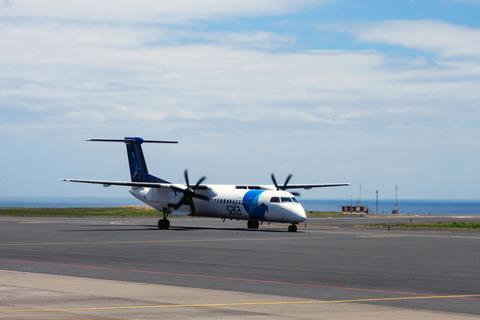 Portugal notified the Commission of its intention to grant urgent support to SATA, with the aim of providing the company with sufficient resources to address its "urgent and immediate liquidity needs" until the end of January 2021.
Because SATA was already facing financial difficulties prior to the pandemic, the airline was not eligible for support under the Commission's temporary relaxation of its state aide framework under which it has approved various other European government state support moves.
Instead, it considered the package under its existing state aid rules. It judged that a public guarantee of up to €133 million on a temporary loan strictly relates to urgent liquidity linked to the provision of essential services by SATA and was necessary to allow the company to continue operations.
But regulators will open an investigation into earlier public-support measures for the carrier. That relates to a move in 2017 by the Autonomous Region of Azores, which wholly owns SATA, to approve three capital increases to partly address the company's capital shortfalls.
"Most of the amounts appear to have already been paid," says the European Commission. "The Portuguese authorities claim that the capital increases in question do not constitute state aid under EU rules as since the Regional Government of Azores, as the sole shareholder of SATA, acted as a private investor operating under market conditions.
"The Commission will now investigate further if the capital increases constituted state aid that should have been notified to the Commission, and, if so, if the past support measures satisfy the conditions of the 2014 Guidelines on State aid for rescue and restructuring."