Lufthansa has sharply criticised the planned acquisition of German leisure airline Condor by Polska Grupa Lotnicza, the parent of Polish flag carrier LOT, labelling it an example of "dubious" state intervention that "distorts competition".
In January, PGL disclosed that it would become Condor's sole shareholder and intended to build up the Frankfurt-based airline as LOT's leisure-focused leisure sister carrier. Government-owned PGL acknowledged that Condor's acquisition was being financed by the Polish state.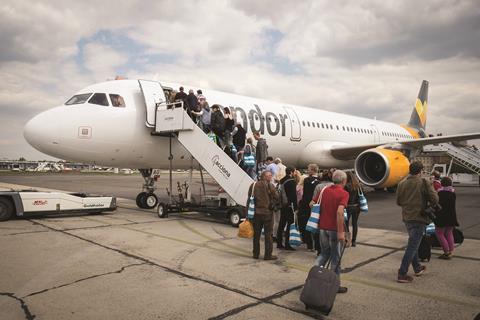 Lufthansa describes LOT as one of several European airlines that "no longer have a sustainable business model [and] have been kept flying by governments.
"Poland has helped its state airline back on its feet several times," the German airline group asserts.
Lufthansa says a "one-off crisis intervention" by a government to rescue an airline from collapse "makes sense". The group sees "substantial reasons for politicians to come to the rescue of companies in certain situations", but warns: "It becomes problematic when state interventions become the rule."
Condor was kept alive by a six-month, €380 million ($428 million) bridging loan facilitated by the German government following the collapse of the carrier's former parent Thomas Cook in 2019.
Lufthansa describes the Polish state's role as providing "permanent survival assistance" for LOT, which "not only distorts competition, but also harms the climate".
Alitalia is also cited by Lufthansa as an operator that "can carry on flying without the pressure of profitability to which other airlines are subject".
The Italian flag carrier has been placed in administration by the country's government and received several financial support packages to continue operations.
In Lufthansa's view, such support "prevents the consolidation of the industry that is so necessary in Europe".
The German group laments that while air travel has come under increased pressure over its environmental impact, "state money is being used to fuel the price war in the skies and low-cost flights are being indirectly supported".