The US Department of Transportation (DOT) has revoked certificate authority from Waltzing Matilda Aviation, the Massachusetts company that owns start-up regional carrier Connect Airlines.
In a 16 November decision, the DOT terminated the certificate of public convenience and necessity issued on 5 July 2022 allowing Connect to engage in interstate air transportation "for reasons of dormancy".
But Connect Airlines has not given up on its plan to launch operations with regional turboprops and eventually retrofit them with hydrogen propulsion systems, chief executive John Thomas tells FlightGlobal on 17 November.
"While the order from the Department of Transportation came without any warning, we note that it does not prevent Connect from securing certificate authority again," Thomas says. "Connect's focus has been on securing FAA certification, and we have fully demonstrated the ability to safely operate an airline while providing additional third-party validation to support our ongoing application."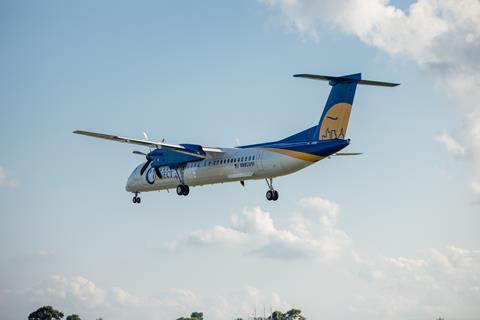 Originally planned to launch last year, Connect has been struggling for several months to meet Federal Aviation Administration certification requirements as it neared deadlines to launch flights. The carrier's FAA-issued interstate and foreign operating authorities had required it to start flying passengers by July and September 2023, respectively.
The Bedford-based company has been attempting to launch passenger service using De Havilland Canada Dash 8-400s, starting with routes from Philadelphia and Chicago to Billy Bishop Toronto City airport. Those operations have not taken off, however, as Connect has requested several extensions on a dormancy waiver – most recently on 4 August, when it requested an extension until 31 December.
That request was denied on 16 November as the carrier "did not provide the required information necessary to support a positive financial fitness finding", the DOT says.
"Among other things, [Waltzing Matilda] did not provide an updated first-year operating expense forecast, a list of total pre-operating expenses incurred to date, or independent verification of its funding, including verification that it has completed its Series B funding or otherwise obtained comparable US citizen capital contributions," reads the filing.
The DOT adds that it "cannot allow applications to remain pending indefinitely, particularly where applicants are non-responsive to our requests for information".
Connect has previously maintained that the DOT's findings regarding its fitness as an air carrier are erroneous. "There is an error in the DOT letter, as Connect's certification process is continuing," Scott Brownrigg, Connect's director of public affairs, told FlightGlobal in July.
It has also argued that its potential to reduce carbon emissions with more efficient turboprops, fly to underserved cities and increase competition at Billy Bishop are why its proposed operations are in the public interest.
The start-up still plans to become the first airline to use Universal Hydrogen's propulsion technology for regional air service. In February 2022, Connect placed an order to convert 75 ATR 72s with Universal's hydrogen propulsion systems, and purchase rights for an additional 25 conversions.
"Connect Airlines remains able and committed to fulfilling all requirements with US regulators to become a new regional transborder carrier and be the first North American airline to fly zero-emission aircraft," Thomas says.