The recent COP26 UN climate change conference saw a positive step-change in the approach to tackling airline sustainability challenges, in the view of IAG's group head of sustainability Jonathon Counsell.
Speaking during the Airlines 2021 event in London on 22 November, Counsell cites the "general acceptance that we will solve climate change with public-private partnerships" as a crucial shift in attitudes at the Glasgow event.
That meant it was "by far and away the most constructive" COP gathering he had been to.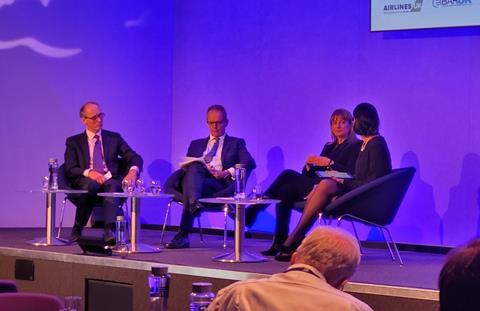 The International Aviation Climate Ambition Coalition, which was established at COP26 and represents around 40% of global aviation emissions, was also a "great step", he says.
And while it was not within the COP meeting's remit to come to an international agreement on aviation, Counsell says the conference was "all about driving the agenda for the ICAO assembly" which takes place next year.
In reference to the airline industry as a whole, he describes that assembly as "our COP".
Counsell's view is that "we need everything to decarbonise aviation", from operational improvements through to technological breakthroughs and market measures.
But the "only real solution this decade" is sustainable aviation fuel (SAF), he says.
"The first step is always the hardest," Counsell adds of bringing SAF up to significant useage levels, but notes that he believes the industry can reach 10% SAF useage by 2030 – a much higher proportion than he would have expected only a couple of years ago – and 50% by 2050.