Copa Holdings, the parent company of Copa Airlines, reported a third-quarter profit on higher demand and stable expenses, as the cost of jet fuel fell by one-fifth.
The Panama City-based company said on 15 November that its profit during the three months that ended on 30 September climbed 61% to $187 million, up from the $116 million it posted in the same three months last year.
"Thanks to a continued healthy air travel demand environment in the region and the company's consistent strategy on ex-fuel costs execution, Copa Holdings reported strong results for the quarter," chief executive Pedro Heilbron says. "Copa Holdings' third quarter results are the product of a solid and well-executed business model."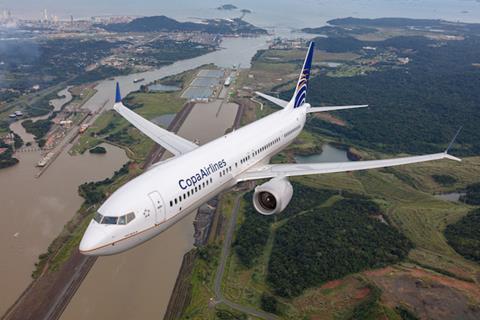 Revenue rose 7.2% to $868 million during the period, as both capacity and load factor also rose. The quarter's load factor was at 87.8%, up almost 1 percentage point over the same quarter in 2022. Capacity rose 12%.
Passenger revenue climbed 7.6%, while cargo fell 11%.
Costs were flat at $663 million, as fuel costs fell 13.5%. The price of fuel was 21% lower, but that was partially offset by an 11% rise in gallons consumed, Copa says.
The airline ended the quarter with 103 airframes in its all-Boeing 737 fleet – 67 737-800s, 26 737 Max 9s, nine 737-700s, and one 737-800 freighter.
It took delivery of two Boeing 737 Max 9s during the third quarter. Two more arrived in November, and Copa expects one final airframe during the rest of the year. It expects to end the year with 106 aircraft in its fleet.
Copa will hold a webcast to give more details on the results on 16 November.