Copa Airlines posted a second-quarter profit of $17.5 million as demand remained strong and costs fell, driven by fuel prices, which declined by about one-third.
Revenue at the Panama City-based carrier during the three-month period rose 16.7% to $809 million, compared with $693 million during the same period a year ago, the company said on 9 August.
"Copa Holdings' second-quarter results continued to benefit from a healthy demand environment, which resulted in solid unit revenues for the quarter," the airline says. "Moreover, lower effective jet fuel prices and the company's consistent execution strategy on its ex-fuel costs impacted positively its unit costs base."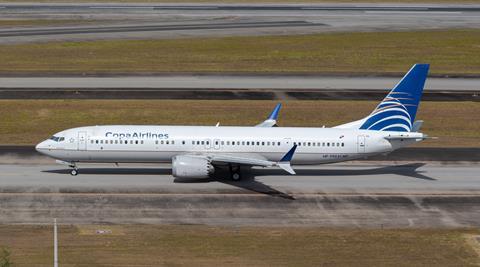 Expenses dropped 5.6% to $614 million from $651 million during the same three months in 2022. Primarily responsible for that was the 27.7% decline in jet fuel costs during the quarter. While the price of fuel fell by 35.9%, that decline was offset by an 11.8% increase in gallons used.
Capacity as measured in available seat miles (ASMs) rose 13.6%, leading to a 1.3 percentage point increase in load factor to 86.1%, as compared to the second quarter of 2022.
For the full year 2023, Copa says it will increase ASMs by 12-13% over 2022.
Copa added two Boeing 737 Max 9 aircraft to its all-737 fleet during the second quarter, ending the period with 101 aircraft to end the three-month period with a total of 101 aircraft in its fleet. With the addition of another destination – Barquisimeto, Venezuela – in October 2023, the airline will fly to 81 destinations across the hemisphere.
The airline will hold an analyst call on 10 August to give more details about second-quarter results.