Panama's Copa Airlines struggled during the third quarter as travel restrictions almost completely shut down the airline for the first 45 days of the period.
The company on 19 November reported a net loss of $118 million on revenue of just $32.4 million during the quarter that ended on 30 September. Revenue was more than 95% less than during the same period a year ago.
The airline's potential recovery was hamstrung by a Panamanian government order that effectively sealed off the country for almost half a year – an effort to prevent the spread of the coronavirus. The carrier suspended most operations on 22 March after the government imposed a ban on international inbound travel.
For Copa, which has long marketed its home at Panama City's Tocumen International airport as "the hub of the Americas", that was devastating.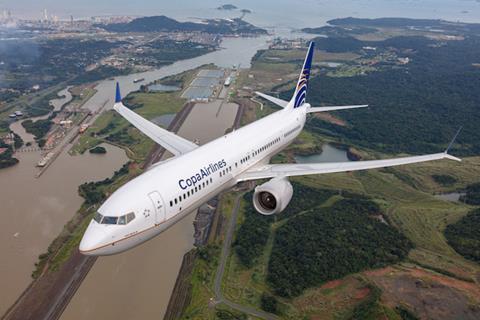 In mid-August some restrictions were lifted, allowing Copa to operate for the first time in five months. On 11 October, foreigners and non-residents were finally permitted to re-enter the country.
Copa restarted operations with eight destinations, expanding to 15 by the end of September, 30 at the end of October and 38 in mid-November.
"The company has been gradually restarting destinations and adding frequencies as quickly as easing of restrictions and passenger demand has permitted," says chief executive Pedro Heilbron.
He adds that by year-end the airline plans to have 50 destinations in its network and capacity at about 40% of 2019 levels.
Executives are frustrated with the differing pace of re-opening among countries in the region.
Trade group IATA has also criticised this approach, which it says confuses travellers and hampers meaningful recovery.
"One of the challenges we are facing is that countries are all over the place in terms of their entry requirements," Heilbron says. "Most of them are open one way or another. Some are 100% open; others are restricting the number of flights or restricting slots. Other countries are restricting the entry of foreigners or visitors. Some countries are requesting [a] negative… test within 72h; others have recently lifted that restriction."
Copa's leaders believe the situation will improve once a vaccine is widely available and accepted. But that will take time.
"Despite the encouraging progress of vaccine, we continue to prepare for what we believe will be a challenging 2021," Heilbron adds.
RETURN OF THE MAX
Copa ended the quarter with a fleet of 74 aircraft, including six Boeing 737 Max 9s that have been grounded since March 2019. The airline is eager to get those new aircraft – which it has stored in Panama – operating again.
The FAA lifted the Max grounding on 18 November.
Copa hopes to bring two of the six stored aircraft back into service in December. It expects to take delivery of two more from Boeing – of seven that have already been built – by year-end.
"We have to retrain pilots because they haven't flown the airplane in a while," he says. "Maintenance-wise, it will take us about two weeks per aircraft to bring them up to the right maintenance level, including a few test flights without passengers, to make sure the bugs are out."
Copa still has a sizeable order for the aircraft type with the Chicago-based airframer, and is negotiating rescheduled deliveries.
"We think we have enough flexibility where we can adjust capacity as needed and it could be upwards or downward depending on how the market behaves," Heilbronn says.
The airline says that during the third quarter it delivered two of 14 Embraer 190s that have been sold to a third party, as it simplifies its fleet to become a 737-only operator. Copa aims to be rid of Embraer aircraft by June 2021.
It also plans to sell 14 older 737-700s, leaving it with 737-800s and the Max.
Heilbronn says Copa has signed a letter of intent to sell the first two of the 737-700s and is actively marketing the remaining 12 examples.