Copa Holdings, the parent company of Panama's Copa Airlines posted stronger third-quarter earnings as passengers returned to air travel in greater numbers.
The Panama City-headquartered carrier said on 16 November that revenue rose to $809 million in the third quarter of 2022, driven primarily by higher passenger revenue. That's up 14.3% from $708 million the airline reported in the third quarter of 2019.
Profit rose to $116 million for the quarter, up 11.5% from $104 million during the same quarter in pre-pandemic 2019.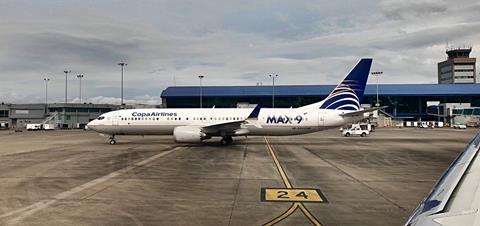 "After the losses related to the Covid pandemic, we have seen a steady improvement in our financial results," Copa says. "The company has a proven and very strong business model, which is built on operating the best and most convenient network for intra-Latin America travel."
Panama CIty's advantageous geographic position directly between the north and south American continents, low unit costs, best on-time performance, and a strong balance sheet have helped the carrier recover from the two-year Covid-19 pandemic.
"Going forward, the company expects to leverage its strong balance sheet, leading liquidity position, and lower cost base to continue strengthening its long-term competitive position by implementing initiatives that will further reinforce its network, product, and cost competitiveness."
The biggest drag on the company's earnings was a 77% rise in jet fuel prices since 2019. Total operating expenses rose 16% to $666 million. Of that, fuel totalled $292 million during the three months that ended on 30 September.
During the quarter, the Company took delivery of one Boeing 737 Max 9 aircraft, ending the three-month period with a fleet of 95 aircraft: 67 737-800s, 18 737 Max 9s, nine 737-700s, and one 737-800 freighter. Prior to the pandemic, the airline had 102 aircraft.
It expects to receive one more aircraft in November and will end the year with a total fleet of 97 aircraft.
Copa will hold an earnings call on 17 November to give more details about its third-quarter results.