Copa Holdings, parent of Panama's Copa Airlines, expects to restore the carrier's full network next year as more countries discard coronavirus-driven travel restrictions and vaccination rates across Latin America inspire customers to travel.
The Panama City-based airline says on 17 November that revenue during the 2021 third quarter was $445 million, 37% less than during the same period in 2019, but more than the $304 million the company reported in the second quarter. The revenue rise was "mainly driven by passenger revenue", Copa says.
Its net profit fell to $8.2 million, down from $104 million in the same three months of 2019.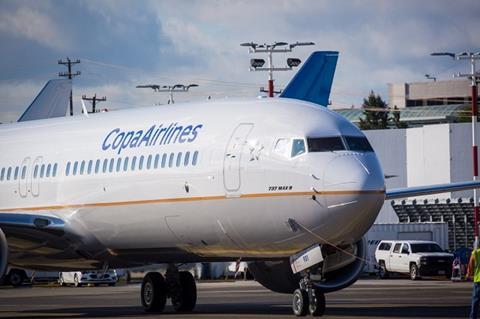 "Improvements in vaccination rates and reduced travel restrictions in Latin America have positively impacted international travel demand in the region, allowing the company to deploy additional capacity quarter-over-quarter while improving load factors," chief executive Pedro Heilbron says on the company's earnings call on 18 November.
"Although most countries continue to have travel restrictions and/or health requirements, downward trends in Covid-19 cases have led to a relaxation of these measures, which we expect should help to further increase air travel demand," he adds.
Copa's capacity during the three months ending on 30 September was 49% more than in the second quarter of the year, reaching 70% of pre-pandemic levels. Heilbron says that number will continue to rise.
Copa expects to fly to 72 destinations by year-end and to recover service to its entire pre-pandemic network in 2022, Heilbron says. Copa will add three new destinations – Atlanta in the USA, and Armenia and Cucuta in Colombia – from December.
Prior to the global health crisis, Copa made a name connecting secondary cities in the Americas and Caribbean through its Panama City hub. Many such routes had little competition from other carriers and insufficient demand to support direct flights. That strategy benefited from Panama's advantageous geographical location at the centre of the North and South American continents. A new terminal at Panama City's Tocumen International airport, opened in 2019, supported Copa's ambitions.
"We have a proven and strong business model and expect our 'Hub of the Americas' will be of even greater strategic advantage," Heilbron adds.
For the fourth quarter, the company expects to post revenue of about $545 million, or 80% of fourth quarter 2019 revenue.
"We are seeing no signs of demand slowing down and we think we are going to stay on this path when we look at future bookings," Heilbron says.
Preliminarily, executives expect Copa's capacity will hit 92% of 2019 levels in the first half of 2022.
That said, the carrier expects the post-Covid recovery to continue in fits and starts as the pandemic continues.
"It's been difficult in predicting what's ahead," Heilbron says. "We have had to make more changes and adjustments along the way than we are used to. Hopefully in the next few quarters we are able to have a more-predictable operation, and stick to it."
Copa ended the third quarter with a fleet of 87 aircraft, including 68 Boeing 737-800s, 13 737 Max 9s, and six 737-700s compared to a fleet of 102 aircraft the company operated prior to the Covid-19 pandemic. The carrier expects to take delivery of two more Max 9 aircraft during the fourth quarter, and ending the year with 89 aircraft, rising to 96 by the end of 2022.
Heilbron says the carrier has accelerated delivery of 12 Max 9s that had been set for 2025. Now, the company will receive two in 2022, bringing to seven the number planned for next year, and ten more in the 2023 to 2025 timeframe.