Copa Airlines is confident it can overcome challenges the new tie-up between Avianca and Gol will present in Latin America, though the deal does create uncertainty about Copa's planned joint venture with Avianca and United Airlines, Copa's chief executive says.
Pedro Heilbron, speaking on Panama-based Copa's first-quarter earnings results call on 12 May, adds that the company is well-positioned in the region, especially for business travellers. He was responding to the news earlier this week that Colombia's Avianca and Brazil's Gol have joined to form a closer bond under a holding company called Abra Group.
"We have faced many challenges and consolidation… in the last 20 years and we usually have a good answer, and usually our answer is doing more of the same but just in a better, more-effective and more-efficient way," Heilbron says. "At the end of the day, we have a very solid and resilient business model, which from what I read [about Abra], is not really losing its strength or its uniqueness."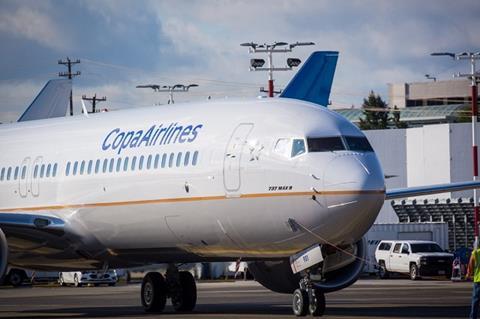 Copa operates out of Panama City's Tocumen International airport, which it calls its "Hub of the Americas". It lies in a geographically advantageous position, at the mid-point of the North and South American continents. The airline has been able to build a network of routes to cities across the region that are rarely served by other airlines.
"We might be the only carrier with the right product for the business traveller in our part of the world, and that's a plus," Heilbron says. "We have a unique, very strong business model. We have shown the ability to keep costs low and push them lower when needed. We have efficient planes, we have a strong product, a strong network – we are actually confident that we are in a good position."
"If we choose to stay focused on our business model, we can continue to be very successful," he adds.
JV 'UP IN THE AIR'
In November 2018, Copa Airlines signed a joint venture agreement (JVA) with Avianca and United Airlines that has yet to be consummated. With the new structure governing Avianca, that JVA could now be in doubt.
"It's been a very up-and-down time since the pandemic. The three airlines did sign a JVA, Avianca then went into Chapter 11 bankruptcy proceedings during the pandemic which put everything on hold," Heilbron says.
"The expectation was for the three airlines to sit down and rethink the JVA and figure out when is the right time to implement it. Now with this new development that came out yesterday, I would assume that whole JVA conversation is going to have another twist, so it's hard for us to say right now what the three partners decide."
"It's up in the air right now, I would say, but it's still something that we need to talk about," Heilbron adds.
Avianca, along with two other Latin American carriers, voluntarily entered chapter 11 bankruptcy protection proceedings in mid-2020 after the coronavirus decimated demand for air travel. The Bogota-headquartered carrier was the first of the three to emerge from the process after its restructuring plan was approved by a US bankruptcy court late last year.