The parent company of All Nippon Airways (ANA), ANA Holdings, saw coronavirus hurt both profitability and revenue during its 2019 fiscal year, as it painted a bleak outlook for the immediate future.
Consolidated operating profit of for the 12 months ended 31 March fell 63% to Y61 billion ($569 million), says the carrier. Operating revenues fell 4.1% to Y1.97 trillion.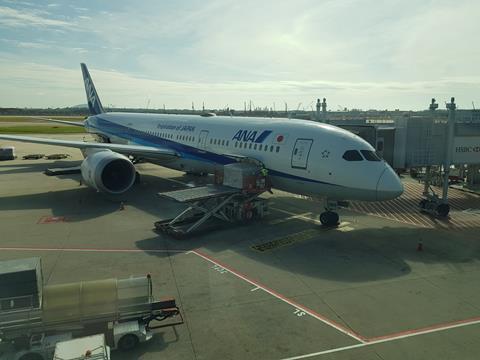 The group's net profit fell 75% to Y27.6 billion, while operating expenses rose 1.1% to Y1.91 trillion.
As of 31 March, cash and cash equivalents were sharply lower at Y176 billion, compared with Y212 billion a year earlier.
ANA blamed the coronavirus pandemic and the resultant demand drop for its weaker result.
The 2019 fiscal year saw the completion of the merger of low-cost units Peach and Vanilla Air. In addition to suffering a demand drop due to coronavirus, ANA's LCC business also suffered from political issues, namely the anti-government protests in Hong Kong as well as poor diplomatic relations between Japan and South Korea.
Cargo suffered weak demand during the fiscal year owing to trade tensions between the USA and China. The fourth quarter reduction in flights owing to coronavirus also hurt both cargo volumes and revenue. International cargo revenue during the year fell 18% to Y22.3 billion.
"ANA expects the current decline in passenger demand will continue, as it is unclear when the spread of the coronavirus will end and for government travel restrictions to be lifted," said ANA Holdings chief financial officer Ichiro Fukuzawa.
He adds that given the challenging environment the company will not make a forecast. "At the same time, we are securing funds through bank loans and raising the amount of credit commitment line, and actively taking measures at a conservative level to maintain stability in liquidity on hand."
In April the group started the process of securing funds of Y100 billion through bank loans. In addition to an existing Y150 billion credit line, it also hopes to finalise a contract for Y350 billion.
The airline has cut international services by 90% and domestic services by 70%. In addition to the network changes, it is reducing costs through pay cuts and placing employees on leave.
Until the coronavirus emerged in China, the carrier was benefiting from the gradual recovery in the Japanese economy, with high corporate earnings and improved personal consumption.
In its outlook for the 2020 financial year ended 31 March 2021, ANA expressed concern about the effect of coronavirus on the global economy.
"Although the Japanese government plans to implement measures to support the economy, the deterioration of the job and disposable income environment caused by declining corporate earnings and the slump in consumer spending is thought to be unavoidable," it says.