Corporate travel on United Airlines has fully returned following an almost-three-year downturn due to Covid-19.
Speaking during the company's quarterly earnings call on 19 April, chief commercial officer Andrew Nocella said that, in the fourth quarter of 2022, United's corporate travel – its most-lucrative – had been less than 85% recovered.
But the segment hit 85-97% pre-pandemic levels in the first three months of 2023. "In the first two weeks of April, we saw 95-101%," he says.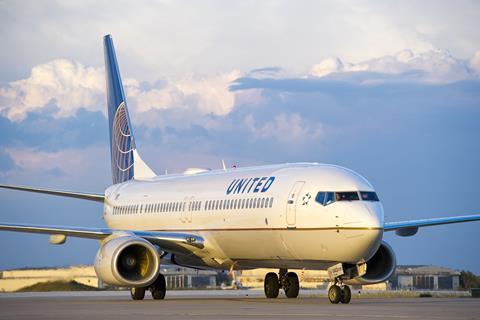 "Trends for May are ahead of March" and the company recently experienced "the best booking days for revenue since the pandemic", Nocella adds.
Executives at the Chicago-based carrier say long-haul international travel is booming – underlined by United's recent announcements of numerous new international routes and flights.
On 18 April, the company reported "strong international demand" for travel during the traditionally busy summer season. United has built out its network and workforce to help its operation flow smooth during summer's inevitable severe weather, it adds.
"Summer is our Super Bowl," says Toby Enqvist, United's chief operations officer. "It's going to have some tough days, it's not going to be perfect, but we are going to be in a much, much better place than last year," he adds.
Last summer, unpredictable storms and surging demand – coupled with staff shortages at airlines, airports and air traffic control sites – contributed to major air travel disruptions on some of the busiest travel days of the year.
Delays and cancellations left many travellers angry and frustrated, and prompted the US government to warn carriers to honour responsibilities to their customers. The US Department of Transportation (DOT) rolled out an online tool intended to give travellers clear information about their options if affected by flight disruptions.
With more passengers predicted to travel this summer, airlines have been preparing.
"We have built buffers into [the system] in advance," says chief executive Scott Kirby. "We are ahead of the curve, and perhaps others are catching up."
MINIMAL IMPACT FROM 737 MAX DELAYS
With the busy season just ahead, United also says its operations are unlikely to be significantly impacted in the coming months by Boeing's recent woes with some models of the 737 Max.
On 13 April, Boeing said it was pausing deliveries of some Max due to a manufacturing error. It is unclear how long that pause will last or how many aircraft are affected. The error does not present a flight-safety issue, Boeing says.
That said, United has more than 400 Max on order with Boeing, and had been expecting to take delivery of an average of two Max aircraft weekly this year. It currently operates 101 of the type.
"From what we know, we don't think [the Boeing pause] will have much of an impact on us. It certainly won't have an impact on" the second quarter, says chief financial officer Gerry Laderman. "Boeing has gotten back on track on delivering aircraft. They have really managed well."