Corsair's majority shareholder Intro Aviation intends to sell its stake in the French carrier.
Intro managing partner Peter Oncken, who also serves as Corsair's chairman, tells Cirium that, amid the Covid-19 crisis, the airline requires additional funding which "neither [fellow shareholder] TUI nor Intro are willing to provide".
Stressing that he speaks only on Intro's behalf, he says: "As the French government is basically willing to help if shareholders make a contribution… I have declared that a sale to interested parties who are willing to invest may well be possible."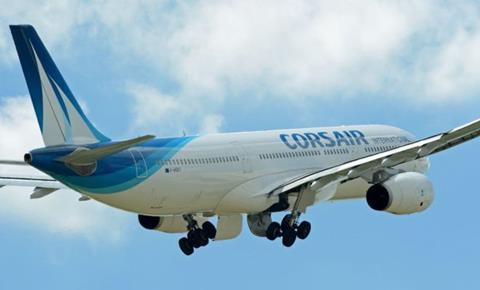 He adds that "promising talks are currently in progress" and that Corsair "will probably have a new owner soon, and we will withdraw".
TUI has declined to comment, while Corsair has not yet responded to a request for comment.
German turnaround specialist Intro acquired a 53% shareholding in Corsair from TUI in 2019. The airline's staff took a 20% stake, while TUI retained the remainder.
Intro and TUI each committed to maintaining its shareholdings for a minimum of three years.
Oncken expresses regret about Intro's prospective withdrawal from the Paris-based airline, saying: "It's a real shame because we were on track until the outbreak of the crisis and made excellent progress with the restructuring.
"I actually set out to develop the company over the long term and I was really looking forward to the years to come."
Based at Paris Orly, Corsair specialises in long-haul flights to destinations in West Africa, the Caribbean, the Indian Ocean and North America.
Following the acquisition by Intro in 2019, the airline phased out its three Boeing 747-400s to focus its fleet on the Airbus A330. It arranged a lease deal for three A330-900s and had plans to grow the fleet to 13 aircraft by 2023, from seven last year.
Cirium fleet data shows Corsair has four A330-300s aged 8-11 years and a 1999-vintage A330-200, all powered by Rolls-Royce Trent 700 engines. The A330-200 is managed by Carlyle Aviation Partners, while two A330-300s are managed by AerCap, one by AMCK Aviation, and the fourth by Corsair itself.
The A330neos – previously scheduled for arrival by 2021 – were to be leased from Avolon and MG Aviation. Oncken says delivery of the Trent 9000-powered aircraft has been delayed by a few months.
He sees no opportunity for airline equity investments over the coming years. "The current situation is simply too volatile," he says.
Instead, Intro intends to concentrate on airline consulting projects. The Nuremberg-based company – which Oncken acquired from founder Hans Rudolf Wohrl in 2016 – has been engaged by an investor group interested in acquiring stakes in multiple African carriers, he says.
Additionally, Intro is involved with Korean budget start-up Aero K. That carrier is set to launch flights within weeks, Oncken indicates.