A failure to properly redact sections of court documents has seemingly revealed JetBlue Airways' plans to hike fares by as much as 40% on Spirit Airlines aircraft following its proposed acquisition of the ultra-low-cost carrier.
In an inadvertent disclosure first reported by legal news service Law360, plaintiffs challenging JetBlue's $3.8 billion acquisition of Spirit – the basis of a court case set to begin in October – reportedly revealed JetBlue's internal plans for price increases of between 24% and 40%, in addition to capacity reductions.
But JetBlue is taking issue with how the report characterises information in those documents, saying the documents "did not include internal JetBlue plans".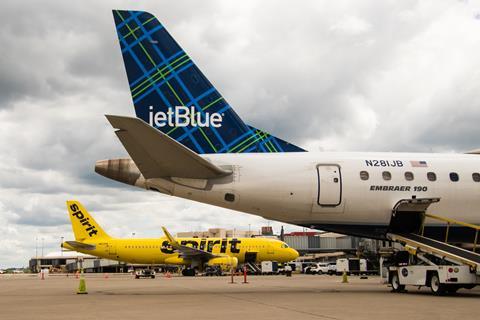 Sections of the document in question were supposed to be redacted but could be viewed by "copy-pasting the text into another document", according to Law360.
JetBlue admits that "private plaintiffs' counsel failed to properly redact certain information" but maintains that the information has been "taken out of context", creating a "completely inaccurate picture of the facts".
The company has previously stated that it plans to remove seats from Spirit's 200-strong fleet of Airbus narrowbody jets once the deal is finalised, bringing those aircraft's cabins in line with its own.
The episode has sparked speculation that the accidentally disclosed plans to raise fares could harm the airlines' antitrust defence when it goes to trial this fall against the US Department of Justice in Boston.
JetBlue has long maintained that its proposed tie-up with Spirit would boost competition with the "big four" US carriers – American Airlines, Delta Air Lines, Southwest Airlines and United Airlines – while also increasing the number of low-cost flights available to budget-conscious travellers.
"We are confident that our merger with Spirit will give a much-needed boost to airline competition in the US and result in more low fares and higher-quality service for customers," JetBlue says. "We look forward to laying out all the evidence to support our case this October."
Spirit did not respond to a request for comment.
The episode is the latest difficulty for JetBlue, which has struggled operationally this summer amid extreme weather events. It is also working to complete the court-ordered dissolution of its Northeast Alliance with American Airlines following a federal antitrust trial last year.
The low-cost carrier posted a second-quarter 2023 profit of $138 million – compared with an $188 million loss during the same three months last year – and generated revenue of $2.61 billion, a company quarterly record.
Story updated on 25 August to include a newly received comment from JetBlue's representative.