JetBlue Airways will defend its proposed $3.8 billion acquisition of Spirit Airlines in US district court one week later than expected.
Previously set for 16 October, the Boston trial is now scheduled for 23 October "due to criminal trials to be held prior to the commencement of this matter", according to a recent filing with the US District Court for the District of Massachusetts.
Interested parties in the federal antitrust case include American Airlines and a trio of ultra-low-cost carriers (ULCCs) that compete with Spirit – Allegiant Air, Frontier Airlines and Sun Country Airlines.
The states of California, Massachusetts, Maryland, New Jersey, New York and North Carolina are listed as plaintiffs alongside the District of Columbia.
The court trial will be overseen by Boston-based US District Judge William Young, who said earlier this year that the trial should not go longer than 20 days, and that he intends to rule on the case by the end of 2023.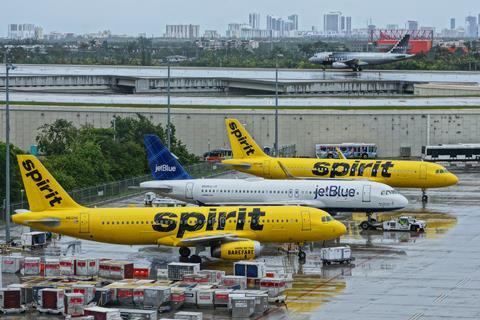 The DOJ sued in March to block JetBlue's proposed $3.8 billion acquisition of Spirit, arguing the deal would eliminate one of the largest ultra-low-cost carriers, to the detriment of consumers seeking affordable air travel.
JetBlue views itself as the USA's sixth-largest airline, accounting for "less than 5% of capacity in the national airline market", it says in a 10 October court filing. It maintains that acquiring Spirit's pilots and narrowbody Airbus jets would allow it to increase competitive pressure on major US carriers.
"Armed with a larger footprint and fleet, the new JetBlue will force its larger rivals to compete harder to win the business of the travelling public, injecting substantial system-wide competition into an industry in need of a competitive shake up," JetBlue argues.
JetBlue also says there is no lack of competition among US low-cost carriers.
"Allegiant, Frontier, Breeze [Airways], Avelo [Airlines] and Sun Country – all of which provide a similar offering to Spirit – have large order books that, in the aggregate, substantially exceed the number of planes Spirit has on order," JetBlue says. "These airlines could replace any unmet demand for the type of unbundled product Spirit offers after the merger."
New York-based JetBlue still expects to close the deal toward the end of the first half of 2024.
In September, the master executive council for JetBlue's pilots' union voted unanimously to support JetBlue's purchase of Spirit.
According to a document obtained by FlightGlobal, leaders of JetBlue's chapter of the Air Line Pilots Association, International "determined that the financial and market strength of the combined carrier represents a historic opportunity to protect and advance the careers of JetBlue pilots through the continued growth of the airline".
Union leaders did not entirely withhold scepticism, however, noting that JetBlue's pilots would benefit only if the company "appropriately values the pilots' contributions to that growth".
The discount carrier is focusing intensely on acquiring Spirit following a court-ordered dissolution of its Northeast Alliance with American Airlines – a decision that JetBlue decided not to fight, but which American is appealling.
JetBlue has been attempting to appease the DOJ with divestiture agreements to hand some of Spirit's airport assets to low-cost competitors, should it be allowed to proceed with the acquisition.