A US judge set an 16 October trial date for the federal government's antitrust case against JetBlue Airways' proposed acquisition of ultra-low-cost carrier Spirit Airlines.
In a video hearing on 21 March, Boston-based US District Judge William Young said the jury-waived trial would be limited to four hours daily and take no longer than 20 days.
Young added that he expects to rule on the potential airline tie-up before the end of 2023.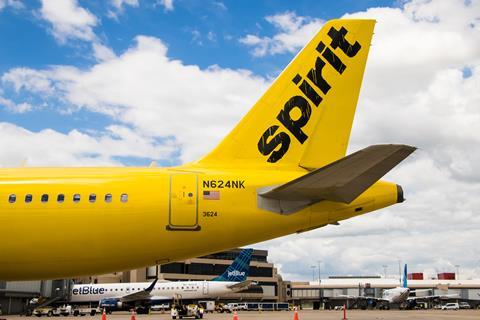 On 7 March, the Department of Justice (DOJ) sued to block JetBlue's Spirit deal, arguing it would eliminate a leading discount carrier from the market and limit consumer options for affordable air travel.
The DOJ has argued that the deal amounts to a "high-cost, high-fare airline buying a low-cost, low-fare airline". JetBlue says consumers would benefit if the two carriers were allowed to combine and compete with major US airlines.
JetBlue will be fighting two federal antitrust lawsuits in the United States District Court District of Massachusetts, as the DOJ is also challenging JetBlue's partnership with American Airlines. The so-called Northeast Alliance (NEA) has faced a similar legal challenge, with DOJ lawyers arguing that the deal reduces carrier competition in the New York and Boston markets.
Despite the latest lawsuit – and the prospect of an additional challenge from the US Department of Transportation – JetBlue maintains that its $3.8 billion acquisition of South Florida-based Spirit will close by the end of the first half of 2024.
Robin Hayes, JetBlue's chief executive, has expressed confidence that the two airlines will prevail in court. "Our number one priority right now is to prepare for trial, litigate arguments and win the case," he said on 14 March.