IATA director general Willie Walsh has urged Latin American and Caribbean airlines to push back against attempts by suppliers to recoup lost revenue through higher charges, arguing the sector deserves better after proving its worth to a broad spectrum of society during the Covid-19 crisis.
"We have seen that everybody suffers when aviation stops," he told representatives at the ALTA Airline Leaders Forum in Bogota on 25 October. "Covid-19 has dispelled the myth that flying only benefits the rich."
Walsh insists airlines are "far too important to be treated as a cash cow for governments to milk".
He specifically refers to "so-called partners in the value chain profiteering literally at our expense", echoing comments he made earlier in October at the IATA AGM in Boston. His comments then drew a strong rebuttal from airports association ACI World.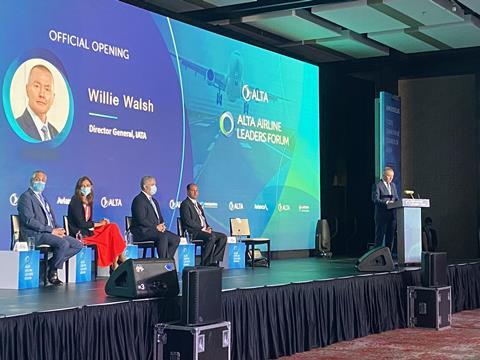 Undeterred, Walsh cites several examples of what he claims is the same dynamic playing out in the Latin America region.
Argentina is increasing departure taxes, he says, while Costa Rica is raising airport security fees. In the Dominican Republic, meanwhile, ground-handling fees are rising, while El Salvador is adding an "agriculture inspection fee" to each airline ticket, according to Walsh.
Such moves are "unacceptable at the time of crisis", in his view, and notably contrast with airlines undertaking "drastic cost reduction" during the pandemic, supported by increased commercial borrowing and shareholder contributions.
While some government financial help has been available to airlines, those in the Latin America region saw "government provide no direct financial support", Walsh observes.