China's three largest carriers widened their net losses for the third quarter of the year — despite an increase in revenue — as recent spikes in coronavirus infections dealt a "sustainable impact" on profitability.
The 'Big Three' — comprising Air China, China Eastern Airlines and China Southern Airlines — all pointed to a decline in travel demand during the three months to 30 September, traditionally a peak summer travel season.
Several parts of China shut off domestic travel, as the number of infections climbed in the country. Consequently, the 'Big Three' saw August traffic plunge to an all-year low.
In financial results released on 29 October, the three carriers also attributed a wider loss to rising fuel prices, as well as fluctuations in exchange rates.
China Southern, which posted a modest net profit in the third quarter of 2020, fell back to the red, disclosing a net loss of CNY1.43 billion ($223 million). China Eastern posted a net loss of CNY2.95 billion, compared to the CNY563 million net loss a year ago, while Air China widened its net loss to CNY3.54 billion for the period.
The widened loss was despite a marginal rise in revenue across the three carriers, ranging between 2 and 5% year on year.
NINE-MONTH LOSSES NARROW
However, for the nine months to 30 September, China Eastern and China Southern managed to narrow their losses, as revenue increase outpaced a rise in costs.
Only Air China fell deeper in the red for the nine-month period, posting an operating loss of CNY14.7 billion, compared to CNY13.6 billion a year ago. The Beijing-based carrier saw revenue increase 18.6% year on year, to CNY57.5 billion, with costs rising nearly 20% to CNY73.6 billion.
Air China reported a nine-month net loss of CNY10.3 billion, marginally higher than 2020's CNY10.1 billion.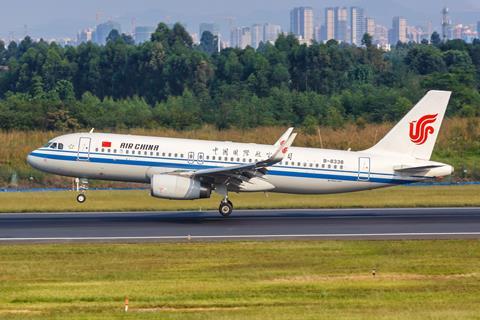 Compatriot China Eastern posted an operating loss of CNY11.6 billion for the period, compared to the CNY13 billion operating loss in 2020. Revenue rose 24% year on year to CNY52.5 billion, outpacing a 15% increase in costs to CNY67.9 billion.
The Shanghai-based airline posted a net loss of CNY8.2 billion, compared to CNY9.1 a year ago.
China Southern too cut its red ink for the period, reporting an operating loss of CNY7 billion, compared to CNY11.2 billion in 2020. The carrier saw revenue rise 20% year on year, to CNY78.5 billion, with costs increasing 12.7% to CNY88.4 billion.
Net loss for the period was CNY6.1 billion, compared to CNY7.5 billion a year ago.
The three carriers did not provide much by way of results discussion, though Air China says it will continue its work to "reduce the impact" of the pandemic on its operations.
"The group will continuously strengthen market research and judgement, keep abreast of the changes in demand, dynamically adjust the deployment of transport capacity and implement strict cost control, all in an effort to reduce the impact of the pandemic on the operation," the Star Alliance carrier states.