The almost two-year coronavirus pandemic has laid bare the need for better collaboration between the public and private sectors during times of crisis, especially when it comes to implementing measures that may have long-term effects on the aviation industry, airline executives at ALTA's Airline Leaders Forum say.
Individual governments' initial reactions to the global health crisis – and how they approach the post-pandemic era – will determine the degree of their airlines' success, including the speed at which carriers recover, executives say on 25 October.
In the first months of the pandemic, many governments shuttered borders out of fear, with authorities delegating air-travel-related decisions to health professionals – not to officials more familiar with the workings of airlines.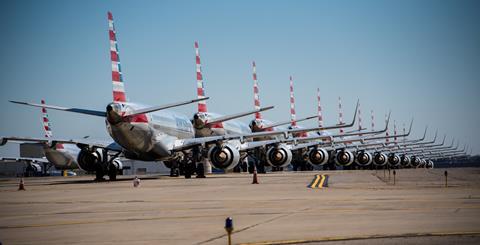 "What they were putting in place did not make sense, and it was overbearing," Bahamasair chief executive Tracy Cooper says during the Forum in Bogota. "They did not take a holistic view."
That fear led to conclusions that had no bearing on or consideration for the actual needs of the industry and, in turn, the customers it served, executives say. In March 2020, airlines in numerous countries were forced to scramble to repatriate citizens after governments quickly closed borders.
"Typically, a president or a government would get advice from tourism ministers, but at the beginning of the pandemic the medical professionals and health ministers were the ones making those decisions in a space that perhaps wasn't their expertise," adds Jose Freig, vice-president of international for American Airlines.
Financial aid to airlines during the crisis created "haves and have-nots", leading to uneven recovery across Latin America, says Bank of America Merrill Lynch Mexico managing director Emilio Romano.
While the USA set aside $58 billion in grants and loans to help passenger carriers manage through the crisis, most Latin American countries' carriers did not receive any financial aid except for minimal tax relief. Governments in the region contributed less than 1% of the 2019 revenue generated by the airlines in the region, ALTA said last year. That made Latin America the least supportive region in the world.
That dichotomy has given some carriers the ability to emerge from the pandemic in a stronger financial position overall, and able to compete better and more efficiently across their networks, executives say.
"You would have had to have an extremely heavy cash account to get through the crisis," Bahamasair's Cooper says. Over the course of the past two years, Bahamasair received $90 million in financial assistance from its government.
"Countries that had the means and resources are better off in the post-pandemic era, and countries that don't have the means tend to be lagging behind," he adds.
According to IATA, Latin American airlines lost $11.9 billion in 2020, with losses expected to narrow to $4 billion in 2021. Three airlines – LATAM, Avianca and Aeromexico – voluntarily declared bankruptcy in 2020. All three hope to emerge from those proceedings this year.
But even despite the cash infusions, and the ability to bring back staff that was trained and ready to work, the recovery has been difficult, Frias says.
"Even with that particular help, when we ramped up as quickly as we did, we still had some challenges," Frieg adds.
American Airlines was forced to cancel hundreds of flights in July due to staffing shortages, and the airline's inability to retrain and recertify flight crew in a timely manner as domestic leisure demand climbed through the summer holiday travel season. A similar event, compounded by inclement summer weather, happened to Spirit Airlines and Southwest Airlines later in the year.
ALTA leaders are meeting for the first time in two years after the Covid crisis forced the organisation to cancel last year's event.