Delta Air Lines continues to resist requiring employees be vaccinated against the coronavirus even as a federal mandate is set to go into effect.
The Atlanta-based carrier's chief executive Ed Bastian says on 3 October that 84% of the company's employees have been vaccinated.
By next month that number will be "well over 90%", Bastian says, speaking on the sidelines of the IATA Annual General Meeting in Boston.
That compares to 99.5% of employees at Delta's Chicago-based peer United Airlines. United said on 30 September that it has begun firing employees who have not proven they are vaccinated, and who did not secure a medical or religious exemption.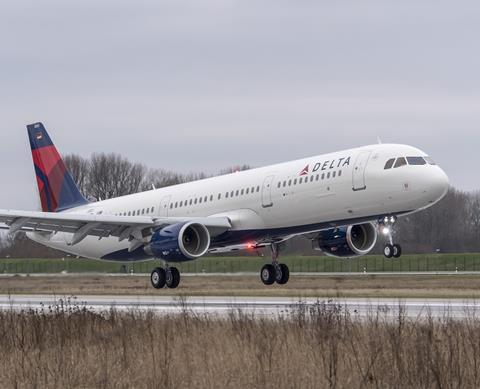 In recent days, American Airlines, JetBlue Airways and Alaska Airlines have told staff they will be required to be vaccinated under a federal executive order signed by President Joe Biden last month. The executive order demands all federal workers and contractors be vaccinated, and companies with more than 100 employees must require their workers to have received immunisation against the coronavirus or submit to weekly testing.
"We have not made a decision on that. We are obviously studying it, talking to the White House and the administration as to what the requirements are," Bastian says. "We will certainly follow any executive order requirements."
"Everyone is handling this a little bit different. I'm really pleased with the success we are having at Delta," he adds. "We are up to 84% of the company is vaccinated, a 10-point increase in the last 12 weeks. I fully expect that by the time we get to 1 November we will be well over 90% as a company."
In addition to United, Frontier Airlines and Hawaiian Airlines have introduced vaccine mandates for their US-based staff. Unvaccinated employees at Delta who are on the company's health plan must pay a $200 surcharge every month to compensate for their increased coronavirus risk.