Delta Air Lines anticipates cutting daily cash burn 50% as the coronavirius pandemic drags into the second quarter, depressing passenger demand to about 5% of pre-pandemic levels, the airline says.
Atlanta-based Delta on 22 April also confirms it has no immediate plans to take new aircraft on order with Airbus.
Delta reported a first-quarter loss of $534 million, down from a profit of $730 million in the same quarter a year ago, as travelers stayed home for fear of contracting the deadly virus. Delta is the first US airline to report results in the coronavirus-ravaged period.
"These are truly unprecedented times for all of us, including the airline industry," says chief executive Ed Bastian during the company's quarterly analyst call. "Government travel restrictions and stay-at-home orders have been effective in slowing the spread of the virus, but have also severely impacted near-term demand for air travel, reducing our expected June quarter revenues by 90% compared to a year ago."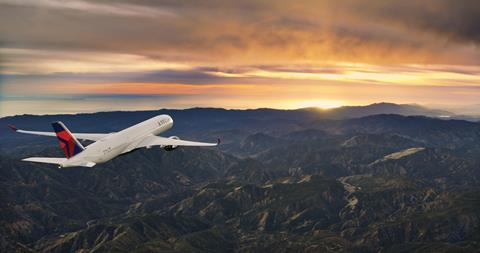 Delta requested and received government aid approved by Congress in late March. The CARES Act set aside about $60 billion to support airlines and aviation-related industries. Delta's share is about $5.4 billion, which includes $3.8 billion in direct relief and an unsecured 10-year low-interest loan of $1.6 billion. Bastian says the company received $2.7 billion of that amount earlier this week.
In return, the airline will provide the government with warrants to acquire 6.5 million shares, or about 1% of Delta's total stock at $24.39 per share. The warrants mature in five years. Delta is also eligible for $4.6 billion in secured loans.
Bastian says this will probably be the extent of the government support for airlines. "The appetite for additional relief will be challenging."
By May, Delta will reduce daily cash burn by about 50%, to $50 million, by introducing numerous decisive measures to its fleet, operations and human capital, says chief financial officer Paul Jacobson.
"It was an across-the-board effort across the expense base," Jacobson says. Maintenance costs declined by more than 80% as the operating fleet shrunk in recent weeks. Salaries were cut, capex suspended, and more than 37,000 employees, or one-third of the workforce, took voluntary leave for periods of three months to one year.
For the second quarter, the airline reduced total system capacity 85%, with domestic capacity down 80% and international capacity down 90%. As a result, Delta expects the second quarter's total expenses to decline approximately 50%, or $5 billion.
Delta ended the first quarter with $6 billion in unrestricted liquidity and expects to end the second quarter with about $10 billion in liquidity. Unencumbered assets are about $13.5 billion.
Executives all but ruled out the airline acquiring more aircraft over the course of the year, which is bad news for its primary supplier of new aircraft, Airbus. According to Cirium fleets data, Delta currently has 235 aircraft on order wtih the Toulouse-based manufacturer, and another 135 on option.
"We have a great relationship [with Airbus], and are having constructive dialogues, but the reality is we have 600 aircraft on the ground, we don't need any more aircraft to be putting on the ground," Bastian says. "We have no plans to expend cash over the balance of this year on new aircraft. If over the course of the year we take some fully financed aircraft remains to be seen."
WHAT KIND OF RECOVERY?
How the eventual recovery will progress remains a guessing game, say Delta's executives. The carrier's leadership is considering scenarios and operations changes that may make air travel different than just 60 days ago. Accelerated fleet retirements and changes to on-board service and seating arrangements are in discussion.
"Anything that was scheduled to retire [in] the next five years has an accelerated path to retirement," says Bastian. "We will be taking the time to accelerate into the future and fast forwarding many of these decisions, simplification and streamlining our entire business model to the new normal for Delta. Any path we were on – we will shorten that pathway considerably as a result of this crisis."
Airlines have already introduced expanded cleaning protocols and seating modifications such as leaving middle seats empty to enhance social distancing, leading to distorted load factors. Delta is exploring a host of options, like taking out seats completely, so that it can be successful as air travel returns to some semblance of normalcy.
"This recovery is going to take several years, it will be multi-phased and choppy along the way, and we will have the opportunity to test out all of those pieces," Bastian says.
But, he adds, though the recovery may be rocky and prolonged, travel will continue. The airline expects passengers will be willing to pay a premium for a higher level of service and safety when it does.
"Business is done face to face, people enjoy experiences," Bastian says.
"Demand will be there when people feel it's safe to travel," he adds. "That's when the recovery will take shape… We have to inspire the confidence to start travelling again."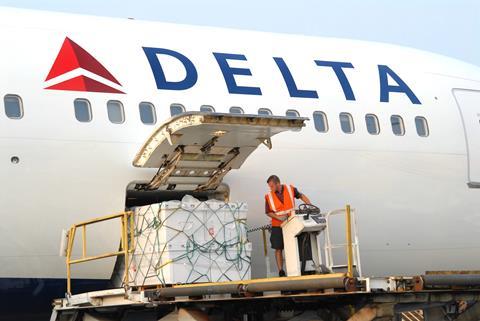 Like its peers, Delta has pivoted to carrying more cargo, in some cases removing seats to open freight space. It has transported medical supplies and personal protective equipment and operated new cargo routes to Asia, announcing earlier this week new flights to Seoul and Shanghai.
But Bastian sees light at the end of the tunnel. "Our cash sales are starting to equal refunds going out the door. That wasn't the case 30 days ago."