Delta Air Lines and Virgin Atlantic are seeing no sign of fresh pressures stemming from the Ukraine conflict and rising costs amid 'robust' demand for travel.
Speaking during a press briefing in London on 15 March, the respective chief executives of the partner airlines – which operate a joint venture together with Air France-KLM across the Atlantic – struck a positive note over near-term demand.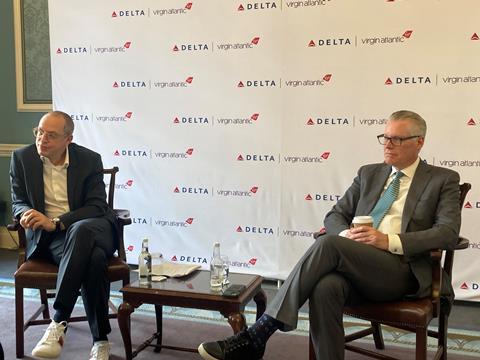 Delta Air Lines chief executive Ed Bastian, while flagging the wider tragedy resulting from Russia's invasion of Ukraine, acknowledged the impact of rising fuel prices. "We are not hedged for fuel – none of the major international carriers in the US are hedged – so we need to pass that along into the market price in terms of pricing. Demand on the other hand has held up really strong. We really haven't seen any impact at all.
"We last week had the largest bookings day for our company in our history, period," he adds. "We don't have our full schedule back. So when I say we had our busiest booking day, that is despite the fact we have 15% lower seats in the market.
"Bookings have been higher than we have seen since the start of the pandemic, and we have not seen a spike in cancellations," he says.
Virgin Atlantic chief executive Shai Weiss adds: "You have seen it's a very strong pricing environment right now, which makes sense given the pent-up demand, but also the input prices of fuel. The UK-US, we are seeing a very robust environment.
"We are in an anomalous period of time where there hasn't been real travel for almost two years, so I am not inferring what is happening now for the long-term future," he adds. "But right now, given the high input prices and there is just tremendous demand from leisure, but also business is coming back strongly, prices seem to be holding up."
Even with increased fuel costs, both Bastian and Weiss point to the industry's proven ability to be profitable in a high oil price environment.
Bastian says, "We were quite successful in the early part of the last decade when fuel averaged $100 per barrel for several years, I am not at a point of nervousness."
Weiss similarly adds: "The industry adapts. Virgin Atlantic during the pandemic has reduced its cost base by over £300 million ($391 million) so if there is an opportunity to operate efficiently – once our capacity is up and running fully and passenger demand is absolutely where it was pre-pandemic – the aviation industry, Virgin Atlantic, and of course Delta, are able to operate at very high fuel prices."
Cost of living pressures are also increasing, both in Europe and the USA. "Pressures on discretionary spend have an impact in the long run on demand for travel, but what we are seeing now is an unusual situation where there is so much pent-up demand for families [and] businesses to get together, that it far outweighs – for now, for what we can see for the next two to four months – and it does not seem to have an effect yet," Weiss says.
"I am not saying we are immune to this, but we are not seeing it yet," he says.
Bastian also points to the 'nest egg' consumers have built up during the pandemic. "They have been spending all along, but a lot of the spending has not been on services. What we are seeing in the US is a shift away probably from goods and durables, to services. That is what is fuelling the demand environment.
"The other thing we lose sight of is we are always referencing back to 2019 as the benchmark. We believe our economy, particularly in the US, is going to be meaningfully larger than it was in 2019. Consumers have $2.5 trillion more of wealth they have accumulated over the course of the last two years."
While Bastian acknowledges consumer travel habits have been impacted by new technologies and work habits embraced during the pandemic, he sees it creating opportunities as well.
"Video conferencing is going to change the nature of traffic. I think its going to enhance travel. It allows you to take your office with you, it enhances mobility….and I think that hasn't really been understood and will be better understood as we go. So there will be forms of corporate travel that will be reduced, but I think there will be new forms of travel that video conferencing will enable," he says.
He sees similar new opportunities created by the the shift to hybrid working practices during the crisis.
"There is no question the pandemic has caused certain behavioural changes that will be adopted longer term, whether its travel budgets or companies feeling it's a more sustainable way to operate their businesses." But he adds: "At the present time our corporate travel is already 60% back. The US is at a higher level than Europe or international, but collectively we are back at 60%.
"I think you can find as many reasons why travel will be enabled into the future as it will potentially be limited."