Delta Air Lines cancelled more than 100 flights over the busy Easter holiday weekend due to staffing issues.
The Atlanta-based airline says on 5 April that it freed up middle seats on some aircraft to make up for the capacity shortage – weeks before it is scheduled to end its pandemic-driven policy of blocking middle seats.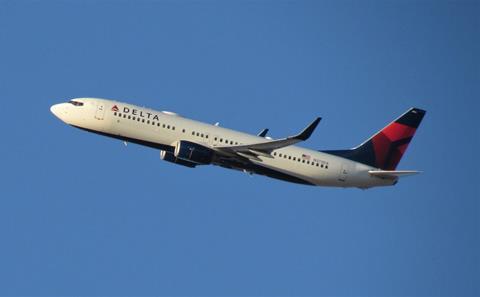 "Delta teams Sunday worked through various factors, including staffing, large numbers of employee vaccinations and pilots returning to active status," the airline tells FlightGlobal.
Delta "opened up capacity on Sunday and Monday (which could include a middle seat)," the carrier says, adding it will resume blocking middle seats until 1 May.
The move elicited anger and disappointment on social media, with customers complaining that they chose to Delta specifically because it was the last US airline still blocking middle seats.
Delta, along with peers United Airlines and American Airlines, has said that demand has spiked recently as customers return to planning air travel.
Delta says it operated 3,900 flights across its network on 4 April, with 3,800 flights scheduled for 5 April.
"With a little over a million customers flying with us the last few days, we're seeing the highest number of customers travelling since before the pandemic started in 2020," Delta adds.
That's leading aviation experts and observers to believe that the recovery - at least of domestic air travel - is in full swing.
More than 1.5 million passengers passed through US airport security checkpoints on 4 April – one of the the highest daily numbers since March 2020, according to the US Transportation Security Administration.
Delta reports first-quarter earnings results on 15 April.