Delta Air Lines expects its operations during the Northern Hemisphere's busy summer travel season will improve compared to last year, when airlines struggled with massive disruptions resulting from lower staffing coupled with unpredictable weather and strong demand following the Covid 19 pandemic.
Ed Bastian, the Atlanta-based airline's chief executive, said on 13 April he is "very confident… [in] a very strong operational summer for Delta customers".
"Our team has another year of experience under their belts," Bastian adds during the company's first-quarter earnings call.
Airlines laid off staff in 2020 after Covid-19 brought the global air travel industry to a near standstill, and have spent the past year hiring and training employees as travellers returned.
"We are still hiring, but at more-normal hiring rates now, not the massive bulge that we needed to go through to restore the business," Bastian says. "Not only are we able to reduce the focus on hiring people, we can take the people who are doing the training and put them back into the business."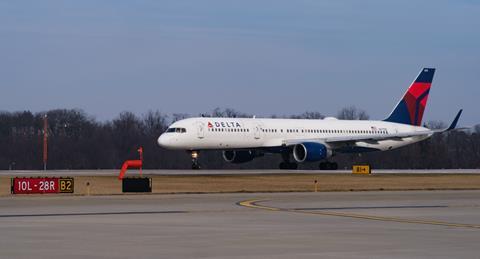 Chief financial officer Dan Janki adds that the airline is bracing for a busy summer period and has made changes intended to help it better accommodate a surge in customers that traditionally begins in late May.
"We have spent a lot of time ensuring that we have the right resources in the right places with the right levels of training," he says.
The company has re-jigged its personnel across all work groups, and is working to reduce turnaround times for line maintenance, technical operations and crews. "We continue to be ensuring that we are putting those types of capabilities and buffers in place."
Last year, as passengers began returning to air travel following two Covid-19-pandemic-related years of travel restrictions, airlines, airports and the broader air traffic system struggled to keep up, resulting in thousands of delayed and cancelled flights. Lack qualified flight crews – and other staffing shortages across the aviation system – coupled with ageing computer systems and unstable summer weather were primary culprits.
Staffing shortages also resulted in long lines at security screening checkpoints, lost luggage and hours-long waits for customer service that left of passengers angry and stranded. Consumer complaints about air travel jumped almost fourfold between May and June 2022, compared to pre-pandemic levels.
In August, US transportation secretary Pete Buttigieg slapped down US carriers for those operational issues, calling service during the heavy travel season "unacceptable" and urging the airlines to improve. The Department of Transportation implemented an interactive online dashboard in September to track airline service levels.
In anticipation of a busy summer 2023 travel season, the Federal Aviation Administration last month decided to relax slot-usage rules at some of the busiest airports in the Northeast USA. It is now allowing airlines operating out of three New York-area airports (John F Kennedy International, LaGuardia and Newark Liberty International), and at Ronald Reagan Washington National airport, to leave up to 10% of their assigned slots unused. The FAA made to move due to its own staffing shortages at air traffic control (ATC) facilities.
Several airlines have since responded by cutting flights at New York and Washington National.
"We are engaged in ongoing discussions with the FAA on this topic of ensuring they have the appropriate staffing," says Peter Carter, Delta's executive vice-president for external affairs.
"The one thing we've seen from them is that they are acknowledging that they have an issue that they need to solve. That's an important acknowledgement that will help us work together to solve it," he added.