Delta Air Lines is still counting on the US aviation regulator to certificate the Boeing 737 Max 7 and 10 models without exensive and expensive cockpit modifications, even though those aircraft have been delayed and, as a result, may miss a critical deadline.
But the Atlanta-based carrier said on 13 October it also has discussed an alternative plan with the US airframer.
"There is a plan B, and when we made the decision to buy the [Max] 10 we had a lot of conversations with Boeing because it's a big part of our capacity and we want to make certain that we are not going to be left without an alternative," Ed Bastian, Delta's chief executive, says during the company's quarterly earnings call.
"There is a plan B with Boeing, we're not talking about it now, but we remain optimistic that it will get certified," he adds.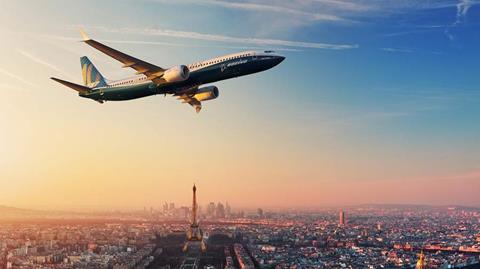 Boeing might need to modify the final two models in its Max family if it fails to get the types certificated before regulatory changes take effect in December. But according to a recent letter from the Federal Aviation Administration (FAA) to a federal government committee, first reported by Reuters on 4 October, Boeing does not anticipate it will receive the Max 10's regulatory approval in time.
As a result, Boeing would be required to make changes to crew alerting systems in the cockpit – unless it receives an exemption.
The cockpit alert requirement comes from a law signed by President Donald Trump on 27 December 2020. Starting two years after its enactment, the FAA cannot certificate transport aircraft lacking a "flight crew alerting system" – which the already-certificated Max versions, the Max 8 and the Max 9, lack. That requirement stemmed from two 737 Max crashes in 2018 and 2019, which killed almost 350 people.
Boeing has been working to get the Max 7 and 10 certificated before the December 2022 deadline but had been late in providing some 737 Max 7 assessments to the FAA, cutting the agency's available time to certificate the jet. The FAA brought the timeline crunch to Boeing's attention in a 19 September letter to Mike Fleming, Boeing's senior vice-president of the 737 Max's return to service.
Last week, pilot union Allied Pilots Association (APA), which represents pilots at American Airlines, said it opposes an equipment certification exemption for the models. The union representing Southwest Airlines' pilots, however, spoke out in favour of such an exemption.
While American has not ordered the Max 7 or 10, its major airline competitors have almost 500 on order with Boeing. For the Max 10, United Airlines has 237 orders and Delta has 100, while Southwest holds 160 Max 7 orders. In recent months Qatar Airways and Canada's WestJet have also placed substantial orders for the 737 Max 10.
As recently as 21 September, Boeing chief executive David Calhoun said he thought the Max 7 would make the December deadline, but was less optimistic that the Max 10 would be ready.
COUNTERCYCLICAL RECOVERY
Earlier in the day, Delta reported record third-quarter revenue of $14 billion, with domestic revenue during the period exceeding pre-pandemic levels by 2%, while international flying reached 97% of 2019 levels.
The SkyTeam carrer's third-quarter revenue was 11% higher than the same quarter of 2019.
The airline posted a $695 million profit in the three months ending on 30 September, well short of its $1.5 billion profit in the third quarter of 2019.
Bastian says the airline industry is in a "countercyclical recovery", with travel demand booming despite broader economic trouble.
"Demand for our product has been strong," he adds. "Our crystal ball is good for 90-120 days [and] what our corporate customers are are telling us is that the travel sector of the economy is going to be very strong through the quarter and into the new year."
"There are significant macroeconomic shifts going on in spending… and we are glad to see people back on the road," he says.