Delta Air Lines kicked off the second-quarter earnings season by reporting record revenue and delivering a message of optimism that the post-Covid-19 recovery is in full swing and sustainable.
The Atlanta-based carrier on 13 July reported a second-quarter profit of $1.83 billion, more than double the $735 million it earned in the same three months in 2022.
Revenue for the quarter came in at $15.6 billion, up 13% from last year's $13.8 billion. For the first half of the year, the company reported $28.3 billion in revenue, 22% more than during the first half of 2022.
Executives see that strength as continuing through 2023.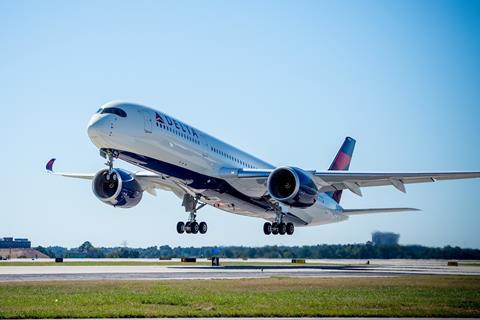 "Robust demand is continuing into the September quarter, where we expect total revenue to be similar to the June quarter," Delta president Glen Hauenstein tells financial analysts during the company's quarterly earnings call.
The increases show that "pent-up demand" for travel remains, even a year after most pandemic-related travel restrictions were lifted.
"Demand has turned on in a crazy-hot way. Supply was low. People didn't care where they were going, they just wanted to go someplace," adds chief executive Ed Bastian.
The company says demand on both international and domestic routes is booming, contributing to record earnings. Expectations are for a continuation of "double-digit" revenue growth.
International passenger revenue was 61% higher year-over-year during the quarter that ended on 30 June, with record profitability. Southern European destinations led the transatlantic traffic demand, while transpacific flying benefited from the re-opening of Japan and performance of the carrier's joint venture with Korean Air.
Latin America also continued delivering positive results, executives say, with the integration of a joint venture with Chile's LATAM "progressing well".
"We see strong demand – both domestic and international – as far as we can see," adds Hauenstein. "We have significant opportunities ahead and we are excited about the momentum we are building."
Passenger revenue on domestic routes was 8% higher during the quarter, with a similar increase in capacity, Delta says.
"We will have a really great summer, and our goal is to have a great winter as well," adds Bastian.
On the final day of the quarter, 30 June – which was also part of the traditionally busy Independence Day long weekend – the airline posted "a new record for industry volume and [the] highest revenue day in history", Hauenstein adds.
The more lucrative corporate travel segment also delivered higher revenue, with more companies requiring employees to return to offices, executives say. Delta's survey of corporate customers showed about 93% "expect their travel will increase or stay the same sequentially" in the current third quarter.
But there is much more potential in that segment, Bastian adds. While comparisons are still being made to pre-pandemic levels in 2019, "we lose sight of the fact that our economy is about 20% larger than in 2019".
"There is a lot of room" for further improvement in business travel, taking that into account, he says.
But while the company is firing on all cylinders, there remain some post-coronavirus hiccups that inevitably will affect US airlines like Delta and its peers.
"The aviation infrastructure is still fragile," Bastian says, citing aircraft delivery delays and training needs. "There is a significant gap between the supply in place and what the business can sustain. And we expect this gap will remain for an extended period of time."
Earlier on 13 July, Delta said it had exercised options to order a dozen more Airbus A220-300s, taking its firm commitments for the jet, including the smaller -100s, to 131.
The SkyTeam carrier became the first US operator of A220s in 2018. It now has 45 of the 109-seat A220-100s and 16 of the 130-seat -300s. After exercising the options announced today, Delta has a further 70 A220-300s on order.
It also added one A330-900 to its order book.
In all, the airline took delivery of 18 aircraft this year so far, of which 12 during the second quarter.