Delta Air Lines aims to return to profitability in the third quarter as domestic travel ramps up following the year-long coronavirus downturn.
The Atlanta-based carrier lost $1.2 billion in the first quarter of 2021 – a period that started slow before turning decidedly positive, chief executive Ed Bastian says on 15 April.
Initially, the first quarter "felt like an extension of 2020". But as Covid-19 cases declined and vaccinations accelerated, demand picked up "meaningfully" in the final few weeks of the period, he says.
For comparison, in the first quarter of 2019, prior to the pandemic, Delta posted a $730 million profit. In the first three months of 2020, as the coronavirus's heavy toll on the air transport became evident, Delta lost $534 million. The airline posted a $12 billion loss for the full-year 2020.
"A year after the onset of the pandemic, travellers are gaining confidence and beginning to reclaim their lives," Bastian says.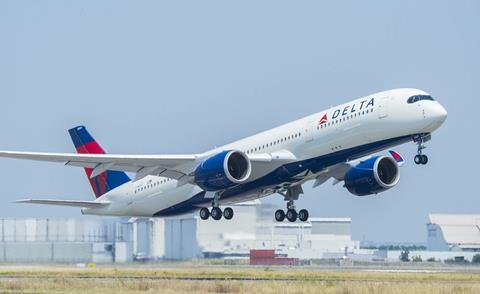 "We achieved positive daily cash generation in the month of March, a remarkable accomplishment considering our middle seat block and the low level of demand for business and international travel," adds Bastian. "If recovery trends hold, we expect positive cash generation for the June quarter and see a path to return to profitability in the September quarter as the demand recovery progresses."
During the first quarter, Delta's cash burn averaged $11 million daily. The figure turned positive in March, when Delta generated $4 million daily.
Revenue in the quarter was $4.2 billion, down 60% from $10.4 billion in the first quarter of 2019. Delta's first-quarter 2020 revenue was $8.6 billion.
Delta began to "see more normal booking behaviour" in the first quarter, and "daily net cash sales in March were twice what they were in January", Bastian says.
The carrier's president Glen Hauenstein predicts Delta's average pasenger loads will rise to about 75% in May – a "transition month" in which Delta will start selling middle seats.
Delta is the last major US airline to maintain a pandemic-era policy of blocking middle seats. The airline said last month it will sunset the policy on 1 May. By June, Delta executives believe, the carrier's load factor percentage will range from the "70s into the 80s".
Domestic travel has come back to about 85% of 2019 levels, Delta says, but many of those passengers are headed to different places than they did before the pandemic. Numerous airlines have introduced point-to-point routes that bypass major hubs, helping them profit from leisure travellers' desire to avoid large airports.
INTERNATIONAL TRAVEL LAGGING
During the first quarter, the lucrative business-travel segment remained 80% lower than in 2019. But Delta sees positive trends.
"The corporate recovery showed signs of improvement during the quarter, with March volumes improving relative to February at a rate twice the normal seasonal growth between the two months," Delta says.
Many in the industry agree international and business travel will take significantly longer to rebound than domestic leisure travel.
Health experts have predicted that by early summer the USA might reach so-called herd immunity – when a majority of the population is either vaccinated or immune to the highly contagious virus, and able to return to a more-normal existence. Other countries are at different stages of recovery and re-opening, meaning uncertainty as to when the US international travel market will rebound.
"We are working on opening international corridors," Bastian say, calling the US-UK market a likely starting point. "There are still many more questions than there are answers."
Mediterranean markets could follow, but most continental European destinations – popular with US tourists during summer holidays – will not likely open until after the busy travel season ends, he adds.
"I don't think you will see continental Europe open until later in the year, and we will probably miss most of the summer for continental Europe," Bastian says.
Asia-Pacific flights may take "a year or more" to significantly rebound.
"South America will be somewhere in the middle," Bastian adds. "It will be based on success they have on trying to get the virus contained."
Brazil – a top South American air-travel market – is now contending with another spike in virus cases and deaths amid vaccination roll-out troubles.