Delta Air Lines posted a $735 million profit for the second quarter of 2022, with its post-Covid-19 recovery still driven by leisure-travel demand and as international travel returns slowly to pre-pandemic levels.
The results, released by the Atlanta-based carrier on 13 July, compare to a $940 million loss last quarter, when Delta's operations were hit hard by the Omicron Covid-19 variant.
Delta's revenue in the quarter ending 30 June came to $13.8 billion, up 10% from $12.5 billion in the second quarter of pre-pandemic 2019.
"While the demand and revenue landscape is the best we've seen, the operational landscape for the entire industry remains uniquely challenged," says chief executive Ed Bastian.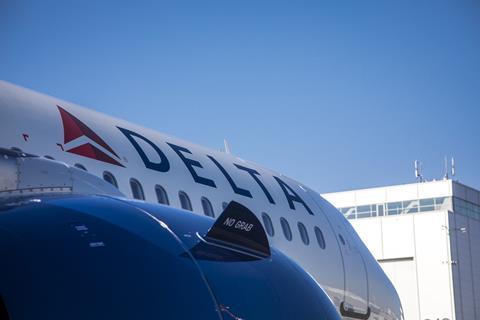 The SkyTeam airline has returned to about 82% of pre-pandemic capacity and plans to fly about 85% of its 2019 capacity in 2022. Delta aims to return 100% of its capacity by summer 2023.
"There is such pent up demand… and we are not going to quench that thirst in the space of a busy summer period," Bastian says. "There's a lot more to come."
Domestic demand leads the recovery, the carrier says, but international travel is also returning to levels not seen for three years. Delta's revenue from international passengers during the three-month period came to 81% of levels from the second quarter of 2019. Its Latin America and transatlantic businesses both exceeded sales during that year's second quarter.
Delta reports "meaningful improvement" in the Asia-Pacific region, as South Korea, Japan and Australia relaxed travel restrictions that had been in place since early 2020.
The US government in June scrapped a pre-departure Covid-19 testing requirement for inbound international passengers, supporting Delta's international upswing. The move cleared a major hurdle that had previously put the brakes on fuller recovery.
Leisure travel remains strong, Delta executives say, but more-lucrative business travel is also returning. Domestic corporate sales for the quarter were about 80% recovered versus 2019 levels and up 25 percentage points from the previous quarter. Delta's international corporate sales were about 65% recovered versus 2019, up 30 points compared to the earlier quarter, with transatlantic travel leading the way.
Delta's bookings for corporate travel in the coming months are at "record levels" and "much higher than what we experienced in June", Bastian adds. He says the airline anticipates that the leisure-corporate mix will shift in favour of higher-margin corporate travel later this year, and that corporate travel will contribute to "meaningful full-year profitability".
The company says its employee count is at about 95% of 2019 levels, and it is working on operational difficulties have disrupted many travellers' schedules in past weeks.
Lost bags remain an issue across the industry, as airports struggle to manage higher-than-planned passenger inflows. Reports of thousands of stranded bags across the country and around the world have made passengers anxious about checking luggage as they head on summer travel.
"Most baggage issues are not domestic… they tend to be more on the European side," Bastian says. "European airports don't have the staff." He adds that Delta recently sent a separate charter aircraft to repatriate bags that had gone missing, in order to reunite them with their owners.
The company expects its third-quarter revenue will be 1-5% more than its third-quarter 2019 revenue.