Delta Air Lines is preparing for a busy summer holiday season as Covid-19-related travel restrictions that have been in place for months or years are lifted.
The Atlanta-based carrier says on its first-quarter earnings call on 13 April that it expects the US government to relax travel prerequisites in the coming weeks, and that countries in Europe and Asia are also signalling a return to more-normal operations.
"Everything we see right now points to very, very robust travel through the spring and summer," says Delta president Glenn Hauenstein.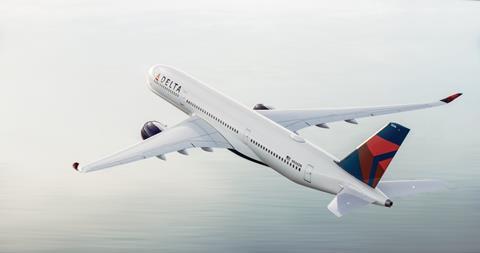 The airline said earlier in the day that it expects second-quarter capacity to rise to 84% and revenue to jump to 93-97% from pre-pandemic levels.
The SkyTeam carrier, the first to report financial results for the three months ending 31 March 2022, posted operating revenue of $9.4 billion for the period. That is 11% down from $10.5 billion for the first quarter of 2019. The gap in revenue is 21% when adjusted to exclude refinery sales and unrealised losses.
The more-lucrative corporate travel segment has risen to 70% of 2019 levels, the company says.
While leisure travel has returned to a greater extent than corporate travel, remaining friction continues deterring some people from booking air travel. That includes the USA's federal mask mandate (which the US Centers for Disease Control and Prevention just extended for two weeks beyond 18 April) and a pre-departure testing requirement for inbound international passengers.
Delta executives say they are "hearing good signs from Washington" that the testing rule – which requires a negative coronavirus test result no more than one day prior to departure – will soon be dropped.
"We are engaged throughout the administration. We are getting a strong indication that the pre-departure testing will be phased out in the near future, which is of course quite encouraging," says the airline's chief legal officer Peter Carter.
Dropping the testing requirement "would be one of the final things we would need in place to say that Covid is in our rear-view mirror", Bastian adds.
Transatlantic business is returning "robustly", the company says, adding that the war in Ukraine, now in its second month, has seemingly not impacted demand.
Delta management is "encouraged" about demand for travel to the Asia-Pacific region after Australia, South Korea and other countries in southeast Asia recently dropped coronavirus-related restrictions. A "big question mark" remains on when Japan and China fully re-open for business, Bastian says. Once they do, "we see a very rapid increase in demand", Hauenstein adds.
EMPLOYEE COVID SURCHARGE DROPPED
With the virus becoming endemic and numerous jurisdictions dropping coronavirus-related rules, Delta too is dropping a policy it imposed on its own employees six months ago.
The airline made headlines last October when it introduced a $200 monthly surcharge on employees participating in the airline's health insurance plan who refused to be vaccinated against the virus. That was a departure from competitor United Airlines, which terminated employees who did not get the vaccination.
"As of this month, we have dropped the additional insurance surcharge given the fact that we do believe that the pandemic has moved to a seasonal virus, and any employees that have not been vaccinated will not be paying the additional insurance costs going forward," Bastian says.
Southwest Airlines and American Airlines had "encouraged" their employees to get vaccinated but did not impose sanctions if they did not.