Three years ago, major US carrier Delta Air Lines was "at the bottom"– revenue had dipped to a mere 5% of 2019, the last year unaffected by the Covid-19 pandemic.
"In three years' time, to go from that to where we are today – this year, we're expecting to be 10% to 15% above 2019 – is pretty incredible," says Ed Bastian, Delta's chief executive, during the MRO Americas conference in Atlanta on 18 April.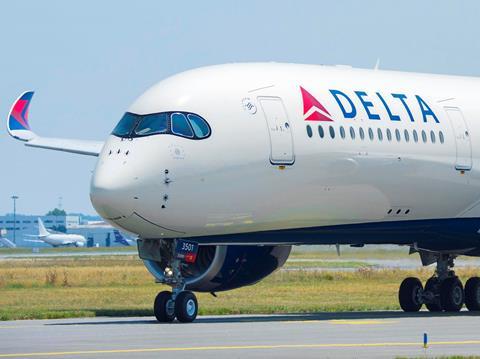 Delta recorded its "10 highest sales days, all in the past couple of months", Bastian says. "We just had our second-highest day in our history in terms of people putting cash down to buy tickets."
"Demand has never been higher," he adds.
The airline's CEO says he believes strong demand for air travel will continue beyond this summer, and that the lines between business and leisure travel will blur even further.
"What we are seeing is not a short-term phenomenon called 'revenge travel,'" he says. "The nine-to-five work location is probably a thing of the past, and I think anything that enhances mobility enhances our industry."
Aircraft delivery delays could hinder Delta' ability to fully capitalise on the demand environment, however.
"Of course, we do our best to make sure that we get every single delivery on schedule because this is the richest demand set we may ever see," Bastian says.
During Delta's first-quarter earnings call on 13 April, Bastian said the carrier anticipates a "strong operational summer" following the chaotic summer of 2022, during which airlines, airports and the broader air traffic system struggled to keep up with rebounding demand for air travel.
Despite generating record revenue in the first quarter of 2023, Delta reported a $363 million loss as costs surged – an improvement over the company's $940 million loss in the same period of 2022.
Delta finished 2022 strong, with a $1.3 billion profit for the full year.