Analysts paint a grim picture of the situation JetBlue Airways and American Airlines find themselves after a judge struck down their now-four-year collaboration in the Northeast USA, shortly before the peak summer travel season begins.
On 19 May, federal Judge Leo Sorokin said the so-called "Northeast Alliance" (NEA) between the carriers was unlawful and violated anti-trust laws. He ordered the venture to be unravelled within 30 days. The carriers have been given 21 days to react.
Industry analysts say the ruling was surprising, and its effects complicated.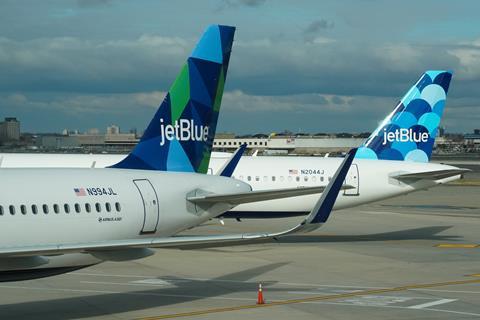 "We view the ruling as most negative for American, at least in the medium term, with the NEA enabling it to reallocate capacity away from marginal or unprofitable routes while still maintaining a strong presence in the Northeast," writes Raymond James analyst Savanthi Syth. "While American will likely regain its slots leased to JetBlue, it will now have to rebuild JFK and [LaGuardia] at likely lower profitability, given its reliance on regional jets and with the lack of feed from JetBlue."
But JetBlue will also suffer.
"The NEA provided [JetBlue] an opportunity to meaningfully improve its corporate position in [New York], with the investment made … unlikely to be recouped," Syth says. JetBlue will lose the additional slots "with little ability to grow share due to slot constraints in its home market".
Analysts expect the airlines to appeal the decision, which may allow the NEA to continue through the all-important peak Northern Hemisphere summer travel season.
"The ruling does deal a blow to the path forward to the two," adds Jefferies' Sheila Kahyaoglu. "Since beginning the NEA, neither airline has articulated a Plan B and both have talked about the growth in daily departures and margin tailwinds… along with items such as substantial loyalty and corporate benefits."
JETBLUE'S SECOND LAWSUIT
But the ill-effects could be offset if JetBlue wins the second lawsuit it currently faces. The US government is attempting to block the New York-based carrier's $3.8 billion acquisition of ultra-low-cost carrier Spirit Airlines. A trial is set for later this year.
Spirit and JetBlue barely compete, says Mike Boyd of Boyd Group International, and their operating models are completely different.
"One can argue that with these [Spirit] assets, JetBlue can build into a much stronger competitor, while Spirit is, in large part, offering low-fare, high-value impulse travel, and not service that is core demand in any of its markets," he adds.
Citi's Stephen Trent says JetBlue not appealing the NEA decision "would seem to boost" its chances of completing the Spirit deal.
Syth disagrees. The NEA ruling "likely embolden[s] the DOJ with a win", and "JetBlue loses a potential bargaining chip for a merger settlement", she writes.
The government said late on 19 May that it was "pleased" with the court's ruling, as it "recognises the value of competition in the airline industry."
"Today's decision is a win for Americans who rely on competition between airlines to travel affordably," US attorney general Merrick Garland said. "The Justice Department will continue to protect competition and enforce our anti-trust laws in the heavily consolidated airline industry and across every industry."