The Danish and Swedish governments have each agreed to increase their stakes in SAS to 21.8% under the Scandinavian carrier's SKr14.25 billion ($1.62 billion) recapitalisation plan, which has now been finalised.
SAS obtained approval from both governments in August for its revised recapitalisation plan, which was originally disclosed on 30 June. It featured a directed issue of shares to the two governments totalling SKr2 billion and a directed issue of hybrid notes amounting to SKr6 billion, as well as a SKr4 billion rights issue to eligible shareholders and the conversion of hybrid notes and bonds.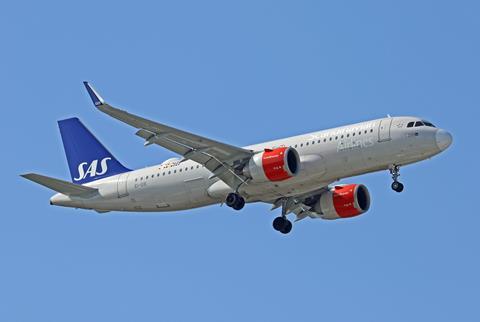 The airline later revised the conversion terms and said there would be increased interest payments for hybrid notes placed with the Swedish and Danish governments.
SAS says in a 23 October statement that its SKr2.25 billion debt-to-equity conversion plan to holders of unsecured bonds due in November 2022 resulted in 56.44% of the offered shares being subscribed for. The remaining bonds were converted into new hybrid notes in an aggregate amount of SKr1.6 billion.
Just over 1.7 billion shares were issued to the Danish and Swedish governments, giving each a 21.8% stake in the carrier. Denmark and Sweden previously held respective stakes of 14.2% and 14.8%.
"Through the recapitalisation plan, SAS converts SKr 2.25 billion of debt to equity, raises proceeds corresponding to approximately SKr12 billion before issue costs, and hence restores equity by an amount corresponding to SKr14.25 billion," states the airline. The recapitalisation results in a dilution of about 95%, it adds.