US airline human resources executives forecast short-term pain for aviation employees but must remain upbeat that their industry will find a way out of its current slump in order to attract candidates back to fulfilling careers when the coronavirus is history. For many of them, it's a tough sell.
With industry experts forecasting the sector will not fully recover until 2023, and the potential of mass layoffs coming in the fourth quarter when government financial aid runs out, airlines now must walk a fine line between cutting just enough to survive their current liquidity squeeze, but not too much so that it will permanently cripple them when passenger demand returns.
"There are definitely cuts coming," says Rachel McCarthy, senior vice president for talent at New York-based JetBlue Airways, speaking at a webinar on "Human Capital in Aviation" led by Aviation Festival Americas on 30 June. "We know we will be a smaller airline" when the crisis is over, she adds.
JetBlue said earlier this month that it would be operating about 50% of its capacity in July and will add more seats in August. Still, that represents a fraction of what the airline was operating six months ago, requiring a reduced number of staff, too.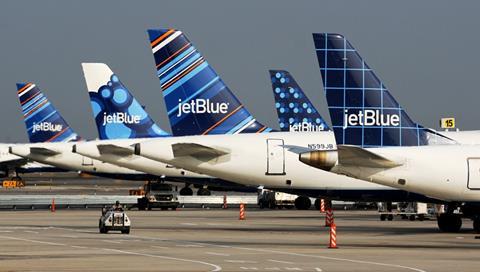 But that said, the impending pilot shortage that had been front and centre for most airline recruiters prior to the advent of the coronavirus pandemic has not gone away. In the coming years, airlines will continue to struggle to fill cockpit roles in the wake of a wave of mandatory retirements. The virus has merely given airlines some time to re-assess their approach.
"As we see the return of travel across the country and retirements continue to mature into the marketplace, we have gotten a three-, four-, five-year reprieve," says Matt Koscal, chief human resources officer at Republic Airways, which operates routes for American Airlines, Delta Air Lines and United Airlines.
"We didn't prepare the first time when we knew we had a looming shortage, how do we ensure that we are prepared appropriately now," he asks.
The payroll support program of the CARES Act, which was introduced to help companies manage cash through the crisis, has allowed most US airlines to continue to operate, if at a reduced level. About $25 billion was disbursed to passenger carriers which, in turn, pledged not to implement involuntary layoffs or furloughs until the end of September.
"Absent that intervention we would have had to make deep cuts immediately," Koscal says. And while layoffs will likely occur in the fourth quarter, Republic is trying to play the long game when it comes to planning for the future.
"This is not the time to cut and run from our investments but it's important to find ways to be more efficient," he adds. "How do we work as hard as we can to have as little impact on as few people as possible, but knowing that there's no way we will be at full capacity at the end of the year or in October when the CARES Act expires?"
The US Department of Transportation said that US airlines employed 605,341 full-time and 110,561 part-time workers in the middle of April, the most recent month for which data is available. That was some 37,000 fewer than in March. The job figures are expected to continue to decline as long as the cornoavirus continues to spread, as both leisure and business passengers are reluctant to return to air travel for fear of catching or spreading the virus while airborne.
Frontier Airlines' chief human resource officer Steve Schuller says that the Denver-based ultra-low-cost carrier is making recruting and hiring decisions week-to-week. At the beginning of the month the airline was "bullish" that the comeback was imminent, until the infection numbers published over the course of the past week showed cases spiking in southern states.
"There's a lot of unknowns out there," he says. "It's a very fluid situation, and each week is a new week."
Miramar-based ultra-low-cost carrier Spirit Airlines is also grappling what it will look like once the government payroll support runs out. Like Frontier, Spirit is a favorite with cost-conscious vacationers, and was hit hard by closures of popular resorts and holiday attractions like the Disney theme parks in Orlando, Florida, or casinos in Las Vegas, as well as the shelter-in-place orders that were imposed across the country.
As states have begun to reopen, Spirit has begun to test the market by bringing aircraft out of storage, expanding its network and increasing frequencies. The airline has added flights for July, planning to operate more than 80% of its capacity and serve 63 of the 75 destinations it served during the same month a year ago.
Still, that number requires far fewer employees than during "normal" operations, says Spirit's chief human resources officer Laurie Villa. There will be losers in the coming months, but she too thinks airline employees will remain loyal to the industry.
"Peoples' lives have changed," she says. "But our people are very passionate about this industry and love what they do. What we can do as an organisation is be the place that our team members can look to have trust and confidence" during the volatile weeks and months to come.