SkyWest made a $48 million profit in the third quarter despite its "crew imbalance" related to the global pilot shortage, chief executive Chip Childs said 27 October.
The St George, Utah-based SkyWest – which contracts with Alaska Airlines, Delta Air Lines and United Airlines – generated revenue of $789 million in the three months ending 30 September, the airline said during its third quarter earnings call.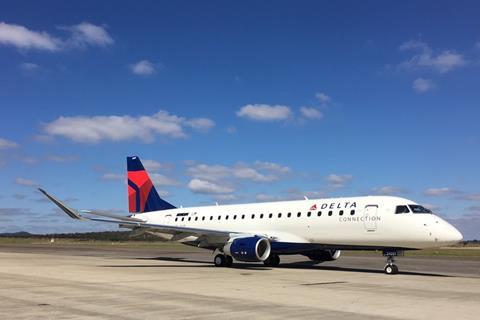 The year-on-year increase compared with SkyWest's revenue of $745 million in third-quarter 2021 is due in part to adding 33 Embraer 175s to its operations in the past year, the airline says. SkyWest expects delivery of four more E175s in the fourth quarter.
Demand for air travel remains "exceptionally high," Childs says, though SkyWest has been unable to "fully monetize this demand" due to the pilot shortage.
"We expect that the timing required for training and upgrades will likely constrain production into late 2023 and early 2024," he says.
As such, SkyWest expects to be only "slightly profitable" in the fourth quarter and to make "modest profits" throughout 2023, adds chief financial officer Robert Simmons.
The airline is also working with the US Department of Transportation to authorise its subsidiary charter operation, SkyWest Charter, with plans to begin charter flights to secondary cities as early as the first quarter of 2023.
The proposal would allow SkyWest to hire pilots with less experience than required for scheduled operations, potentially helping address its shortage of pilots.
As of 30 September, SkyWest held $1 billion in cash and securities, up from $975 million at the end of the second quarter 2022.