With its vaccine mandate set to take effect in five days, United Airlines reports that the vast majority of its workers have received the required jabs.
Now, the airline is warning it will begin firing employees who are not at least partly vaccinated – and who have not received an "accommodation" – immediately after the 27 September deadline passes.
United's policy has rankled at least some staff, with one union recently criticising the mandate and describing the accommodation policy as wholly inadequate.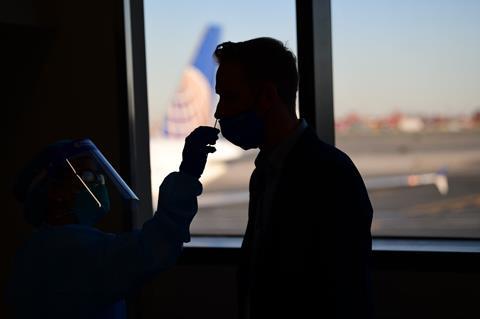 "Excluding the small number of people who have sought an exemption, more than 97% of our US employees are vaccinated," the Chicago-based airline says in a 22 September note to all employees.
The carrier declines to specify the number of employees who have and who have not been vaccinated, saying it will disclose more details next week.
United's headcount has likely changed in recent months, but at the end of 2020 it employed 74,400 people. Three percent of that figure is about 2,230 staff.
Under the policy, workers must, by 27 September, report that they have received at least one vaccine dose.
"You must be fully vaccinated by October 31," says United's staff memo. "If you have not received and reported at least one shot or have not been granted an accommodation extension, United will start the separation process as early as September 28."
United says it policy has one purpose: "to keep our people safe". The airline acknowledges that "the decision to get vaccinated was a difficult one for some".
United became the first US airline to require employees be vaccinated when it rolled out the policy in early August. The airline set the deadline five weeks after the US Food and Drug Administration's first approval of a Covid-19 vaccine, which came on 23 August.
At least some employees have taken issue with the policy.
On 17 September, union International Association of Machinists and Aerospace Workers (IAM) expressed criticism.
"We encourage members to get vaccinated as long as doing so is safe for each individual, but we do not believe United should accomplish vaccinations through a mandate under threat of termination," said a statement from the union, which represented some 11,400 service workers as of the end of 2020.
"IAM's attorneys have advised us that the carrier is within its legal rights" to require vaccinations, it adds.
United granted some IAM members a "religious or medical accommodation" exempting them from the mandate. "Unfortunately, it now appears that United's 'approval for an accommodation' places many employees in an untenable situation," IAM says.
Staff with religious exemptions will be required to take "unpaid personal leave" – and will lose their company provided health insurance, according to the union's statement. Workers who receive medical exemptions will be required to burn sick leave before transitioning to unpaid leave.
"Being placed on what essentially amounts to indefinite unpaid leave is not really an accommodation at all," IAM says.
The union's note mentions that workers placed on unpaid leave might "wish to challenge" United's policy by filing a discrimination charge with the US Equal Employment Opportunity Commission.
"Each person should be free to make their own medical decisions regarding what we put in our bodies. A corporation should not make this decision," Michael Klemm, president of IAM's United chapter, says in a 3 September note.
Story updated on 22 September to include Klemm's comment.