Businesses in the aviation and aerospace industries that are not doing everything possible to attract a diverse range of talent are guilty of moral and business failings, according to speakers on the third and final day of Farnborough Connect on 15 July.
"We all depend on skills for our business to thrive, and the one thing that I always come back to is the fact that 50% of our population are female," says Lynda McVay, skills and capability director at aerospace company Leonardo. "If we are not tapping sufficiently into that part of the population, how do we expect to fill our skills needs? We just can't do it."
Her comments were echoed by speakers across two discussions around diversity in the workforce: one focused on ensuring industries move towards a "diverse and digital future" and the other on the importance of collaboration to achieve progress on the issue.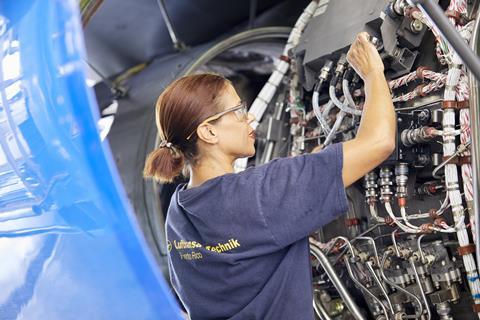 Noting that there has been "very, very slow" progress towards businesses recognising the importance of ensuring gender diversity in the workplace, McVay characterises action on the issue as being both "morally correct" and also "the most obvious business imperative".
Speaking on the second panel, Jacqui Sutton, chief customer officer at engine-maker Rolls-Royce, highlighted how the Covid-19 crisis has made those considerations even more important.
"At this point in time, when our beloved industry is trying to recover from the biggest crisis in history, it just seems common sense to me that we want to be making sure that we're both attracting and retaining the best-possible poeple, whatever their backgrounds," Sutton states.
She further highlights "so many reports and so much evidence" of better business outcomes "when you've got a truly diverse team".
Among the advantages of reaching that point, a diverse range of voices often leads to better, more-informed decision-making and therefore improved business outcomes, Sutton says.
Former TUI and EasyJet executive Chris Browne cites lessons from her own life as driving her commitment to ensuring equality of opportunity in the workplace.
"I grew up in what was euphemistically called 'the troubles' for the best part of 30 years," she states of her formative years in Northern Ireland. "When you see so much unfairness, so much injustice, it leaves a deeply engraved mark on your personality, on your psyche.
"I would never want anyone to be treated as some of us were while growing up. I've carried that forward from when I was a young child, right the way through to how I do business."
In Browne's view, the injustices exposed by the pandemic make it even more important that businesses and the wider society does not simply revert to old ways when the crisis abates.
"We have to learn some of the good things that have come out of this pandemic, and that is about creating a fairer society for all, irrespective of colour, creed, race or sex," she states.
Agreeing with Browne's comments, IATA director general Willie Walsh says employee diversity "really does improve the way any organisation operates".
"It's not just a nice thing, I think it's absolutely critical," Walsh says.
But he highlights one of the biggest challenges: attracting a diverse range of candidates in the first place.
For Walsh and other panellists, the key is to engage with children at an early age.
"It's making sure that kids don't see it in the way that I did growing up," Walsh says, recalling his own historical prejudices around certain jobs being for certain genders. "They can be what they want to be."
That is important, because "if we can't succeed in getting equal representation at the application stage", achieving it further down the line will be much more difficult, Walsh says.
"It goes right back to how kids grow up, the images they have of these jobs, how they're educated, the subjects they learn," the IATA chief adds.
On that topic, KLM first officer Stefanie Broekhuizen highlights how assumptions over what careers options are available to people are solidified at a very young age.
"Before their 10th birthday, little children have to make so many decisions and their whole world image is being formed," Broekhuizen says.
It is therefore crucial that children see examples of career opportunities being open to everyone, she believes.
"If they are being confronted with female role models… [it helps to] plant those seeds in the little children's heads that it's normal to be a female CEO, to be female pilot," she states. "Tell them it's possible."
For Christine-Anne Chevry, senior manager of digital industry at Airbus Helicopters, the same goes for engaging with older students.
"The very pragmatic step is to go early… to show that it's possible and to make a link with mentoring… to the young women who are in universities, in schools, with the different industries."