Latin American airlines may have put the Covid-19 crisis behind them but executives warn that they can't be complacent amid new geopolitical and economic challenges that threaten the industry in different and perhaps more insidious ways.
Speaking at the 18th edition of the ALTA Leaders Forum in Buenos Aires on 17 October, four airline leaders say it's been exhausting, and even though their companies are all on a firmer financial footing than a year ago, they continue to have sleepless nights.
After almost three years of pandemic-driven uncertainty during which many countries shut their borders for months at a time, airlines grounded fleets and were left to founder without any government aid, the region's air transport industry has, for the most part, been able to stabilise their operations.
"The recovery surprised us because it's quite sound," says Pablo Ceriani, the chief executive of Aerolineas Argentinas.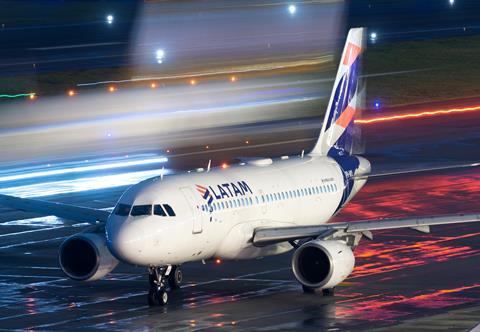 ALTA says that at the end of August, Latin America has once again reached 92.3% of its pre-pandemic capacity. That level was reached far faster than many had predicted, and is even ahead of North America which came in at 84% during the same period.
So-called "revenge travel" – the desire for customers to get back on the road no matter what it costs – has taken hold on the continent. In most countries, leisure travellers quickly filled the void that corporate travellers left.
"Revenge travel is hopefully becoming a way of life," says Copa Airlines chief executive Pedro Heilbron. "This is a surprise that we never would have predicted."
BANKRUPTCY ESCAPE
Early on in the crisis, in mid-2020, the coronavirus crisis brought Aeromexico and its peers Avianca and LATAM Airlines Group, to their knees. Shorn of the state financial support carriers in other regions were able to tap, the three carriers filed for formal bankruptcy protection. Avianca and Aeromexico completed their restructurings earlier this year, while LATAM has just said it expects to exit the Chapter 11 bankruptcy process during the first week of November, having finally secured the required financing.
Aeromexico chief executive Andres Conesa calls his airline's restoration to financial health, "the most important corporate restructuring in the history of Mexico".
The airline had been in a strong financial position prior to the pandemic, Conesa adds, but when corporate travel went from 70% of its revenues to near-zero in just a few weeks, it left the company in a bind. There was no other option than to seek a restructuring, he says.
Adrian Neuhauser, chief executive at Colombia's Avianca, agrees that bankruptcy was the only option for his airline too, and it's come out of the 18-month process transformed.
"It was an existential thing, and inevitable for us," Neuhauser says. "Avianca was and is very important for the Colombian economy, society and the customers, so it was important for us to survive."
The strategy to make that happen was to pivot away from a full-service traditional hub-and-spoke operation to a low-cost model, where any extras need to be booked and paid-for separately. Neuhauser and his team are completely relaunching the product, rebranding, switching out cabins and renewing the fleet.
"It has been a strengthening project," he continues, and it caused some friction.
"Part of what we have decided to accept is that transitions are noisy. You have to accept that there will be dissonance and friction."
FUTURE UNCERTAINTY
But now, in the midst of raging inflation along with the war in eastern Europe, the industry cannot rest, the leaders say. Recessionary fears, high fuel prices, as well as taxes and fees threaten to erase some of the hard-won successes of the past months.
Aeromexico's Conesa says that "regulatory stability" is high on his wish-list amid all of the economic and geopolitical insecurity. He's keen on recouping Mexico's safety status in the USA so that the country's airlines can build out their trans-border business.
Last year the Federal Aviation Administration downgraded the country's safety status to "Category 2" from "Category 1" after it determined the country no longer met ICAO safety standards. Air service between the countries continued, but with restrictions. Mexican carriers were not permitted to introduce new routes, and US airlines were barred from marketing and selling tickets on code-shares. It's not clear when the FAA will reinstate the "Category 1" rating.
"What keeps me awake at night is the uncertainty that we all face," adds Ceriani. "What is going to happen with the world economy? At what point will this 'revenge travel' be destroyed?"
Copa's Heilbron adds: "All of us here in some way or another did not operate for a few months, then flights started again and we had no idea how many travellers we would have. We took many risks. And at some point during this year it took off and we have kept adding capacity, just like many other airlines in the regions have also done.
"But fuel costs are high, interest rates are high, and that raises the cost of debt and capital investments," he adds. "Currencies are getting weaker, and a recession is around the corner."
"We are walking very confidently on this road that has a big wall in front of us, or perhaps a piano might fall on our heads," he says.