The US Department of Justice confirms it has sued in US federal court to force American Airlines and JetBlue Airways to scuttle their partnership in the Northeast USA, alleging the pact violates US anti-trust laws.
Filed in US District Court for the District of Massachusetts, the civil antitrust suit says the carriers' partnership – the "Northeast Alliance" – will eliminate competition and harm consumers.
The suit seeks to "block an unprecedented series of agreements between American Airlines and JetBlue through which the two airlines will consolidate their operations in Boston and New York City," the DOJ says on 21 September.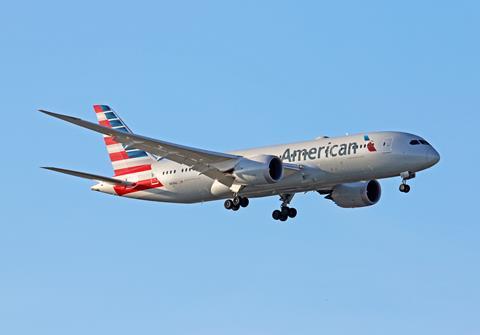 "The Northeast Alliance… will not only eliminate important competition in these cities, but will also harm air travellers across the country by significantly diminishing JetBlue's incentive to compete with American elsewhere, further consolidating an already highly concentrated industry," it adds.
The government says American, "the largest airline in the world," has "relentlessly pursued a strategy of industry consolidation in the United States and around the world".
American and JetBlue issued statements ahead of the DOJ's announcement, saying they will fight back.
"While it's extremely unfortunate DOJ would rather take us to court than help us compete, we're ready to make a strong case" for the alliance, JetBlue chief executive Robin Hayes says in a 21 September note to employees. "We fully expect the court to find that nothing about the [alliance] changes our business model."
"We cannot let this lawsuit slow our momentum in bringing the [alliance] to life," he adds.
American CEO Doug Parker says, "We look forward to vigorously rebutting the DOJ's claims and proving the many benefits the Northeast Alliance brings to consumers".
"Ironically, the Department of Justice's lawsuit seeks to take away consumer choice and inhibit competition, not encourage it. This is not a merger: American and JetBlue are – and will remain – independent airlines," Parker adds.
American and JetBlue revealed their partnership plan in July 2020. The US Department of Transportation approved it in January, letting the carriers establish a pact that includes code shares, coordinated flight schedules and aligned frequent-flier programmes. The alliance applies to flights at Boston Logan International and the three large New York City airports – LaGuardia, John F Kennedy International and Newark Liberty International.
The airlines say the partnership has resulted in lower fares and better schedules to the benefit of consumers.
The DOJ disagrees.
"In an industry where just four airlines control more than 80% of domestic air travel, American Airlines' 'alliance' with JetBlue is, in fact, an unprecedented manoeuvre to further consolidate the industry," says US attorney general Merrick B Garland.
The DOJ's move aligns with a 9 July order signed by President Joe Biden that outlines a policy intended to promote competition.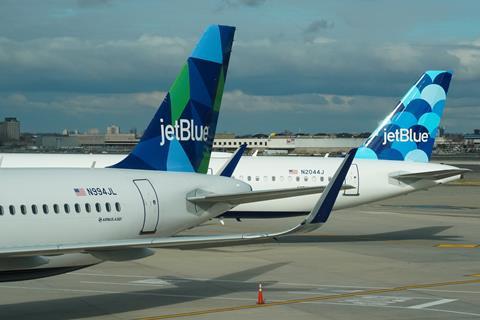 "The complaint filed today demonstrates the Justice Department's commitment to ensuring economic opportunity and fairness by protecting consumers and competition," adds Garland.
JetBlue and American say their pact is not a merger or joint business. They insist they continue to complete outside the Northeast.
But US acting assistant attorney general Richard Powers calls it a "de facto merger" in New York and Boston.
Attorneys general in six states and the District of Columbia joined the DOJ as plaintiffs in the suit, which Powers calls evidence that competitive effects extend beyond the US Northeast.
American and JetBlue say their deal evens the competitive scale in New York, helping them better counter United Airlines and Delta Air Lines, which have more New York flights.
That is true. But even before the alliance, JetBlue had a commanding presence at JFK, where it was (and remains) second behind Delta based on number of flights, and at Boston, where it was (and remains) first. Before the alliance and now, American ranks second behind Delta at LaGuardia, while United operates some 70% of flights at Newark.
"In New York's airports, there has been quite literally no room for us to add flights," JetBlue's Hayes says in his employee note. "These obstacles to growth led us to an unlikely alliance with American Airlines which, even as the world's largest carrier, also has not been able to compete with Delta and United's dominance in the Northeast."
The DOJ says the alliance involves coordinating "network planning, including which routes to fly, when to fly them, who will fly them and what size planes to use for each flight".
"The two airlines will also share revenues earned at these airports, eliminating their incentives to compete with one another," it adds.
Additionally, the airlines agreed to "pool their gates, and take-off and landing authorisations" – known as slots.
"This unprecedented combination would raise prices and reduce choices for air passengers travelling to and from Boston and New York City," the DOJ says.
The lawsuit alleges violation of the Sherman Act, an anti-trust law.